100% New Mexico Initiative
100% POWER HOUR
FOUR: EVALUATING CHANGE
PLEASE NOTE: This page contains supplemental information for attendees of the 4-part 100% New Mexico initiative power hours. Attendance is free, but registration is required. Please register here.
We are providing the slides and narrative text used in the 100% Power Hour: Evaluating Change being offered quarterly by the Anna, Age Eight Institute. The 4-part webinar series is designed to give 100% New Mexico initiative members an overview of key concepts and issues related to implementing the initiative in their county.
Power Hour participants are encouraged to use this page for local presentations in order to increase public awareness of adverse childhood experiences (ACEs), trauma, social adversity, and the data-driven prevention strategies.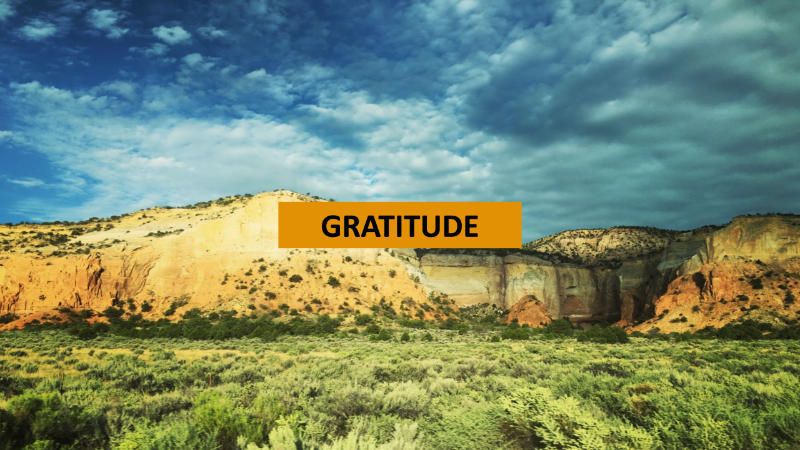 Before we begin our presentation, we want to allow for a moment of quiet reflection. Please take a minute to perform the self-care of your choice.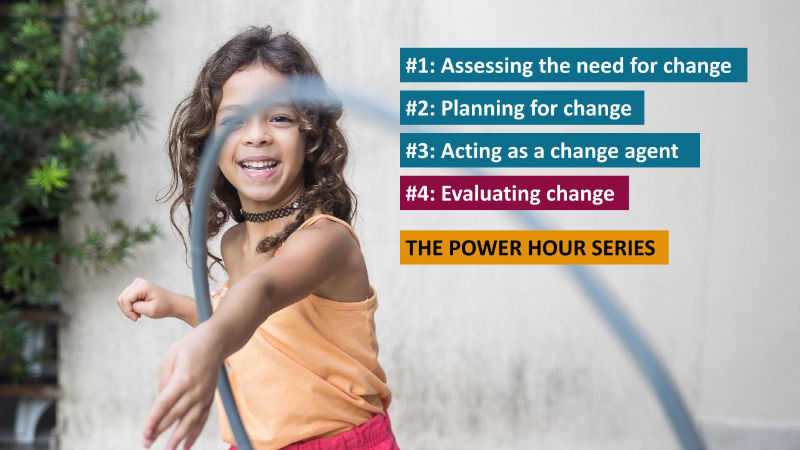 The 100% Power Hour 4-part webinar series was developed to provide initiative participants with an overview of key concepts that guide the initiative. This includes the detailed initiative programming to empower local county and city stakeholders as they address challenges through the process of continuous quality improvement: assess, plan, act, and evaluate. Today we focus on evaluating progress.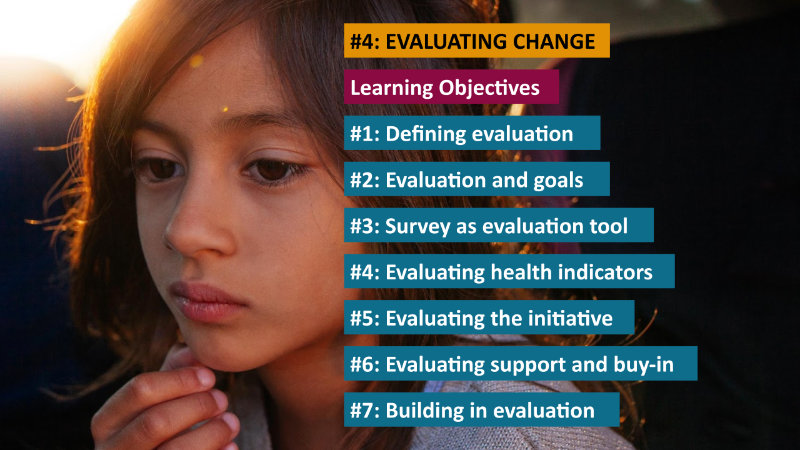 The learning objectives of 100% Power Hour #4: Evaluating Change are participants completing the webinar will be able to describe an overview of: the definition of evaluation, the goals of evaluation, the countywide survey, evaluating health indicators, evaluating the initiative, measuring support and buy-in, and building in evaluation to the county initiative.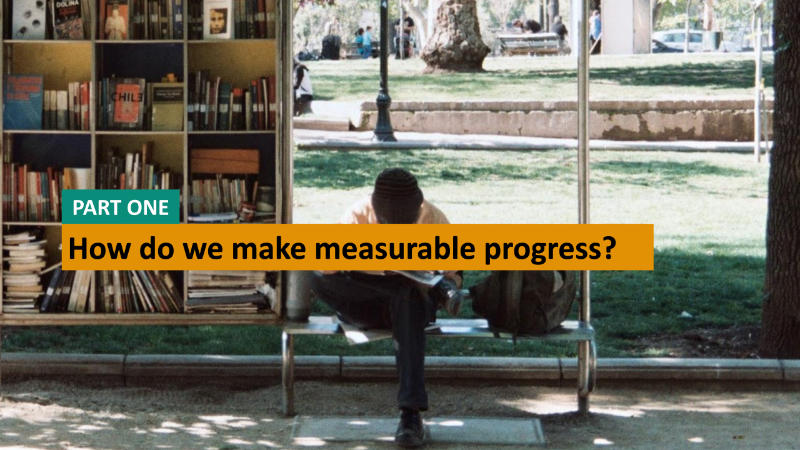 PART ONE: HOW DO WE MAKE MEASURABLE PROGRESS?
The 100% New Mexico initiative, like many health initiatives across the country, has many moving parts. It also has a book to guide all initiative participants, a framework for change and one very clear vision: 100% of families and communities can thrive with access to the ten vital services for surviving and thriving.
This presentation will provide an overview of how we are evaluating all aspects of the county-based initiative to achieve the goal of every community within a county's borders being truly family-friendly.
We are evaluating the process of transforming the adverse social determinants of health into positive determinants to improve the health, education, and quality of life of 100%.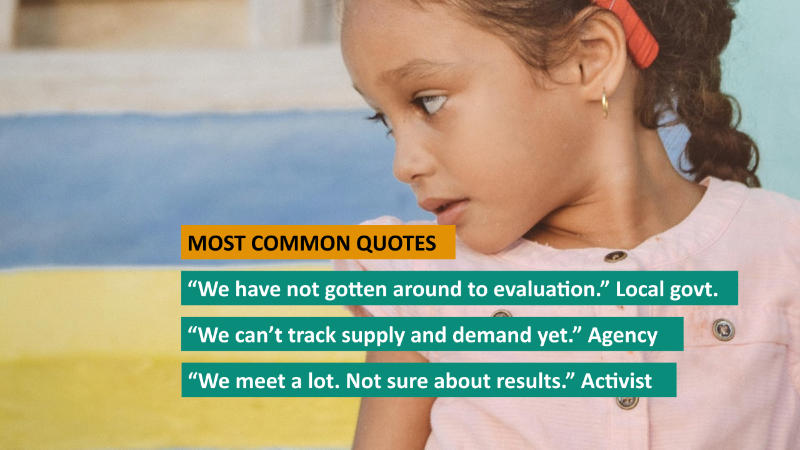 As we begin, we wish to point out three of the most common comments we hear as we discuss the initiative. Some local government representatives will say, "We haven't gotten around to evaluation." Our response is, "How can we support you with that?" Local agency representatives might say, "We don't track supply and demand yet." We respond, "How can we help you?" And some change agents might say, "We meet a lot but I'm not sure about results." We respond, "First, meeting and networking is valuable. Second, moving from talking to action is key. How do we support that vital move to achieve results?"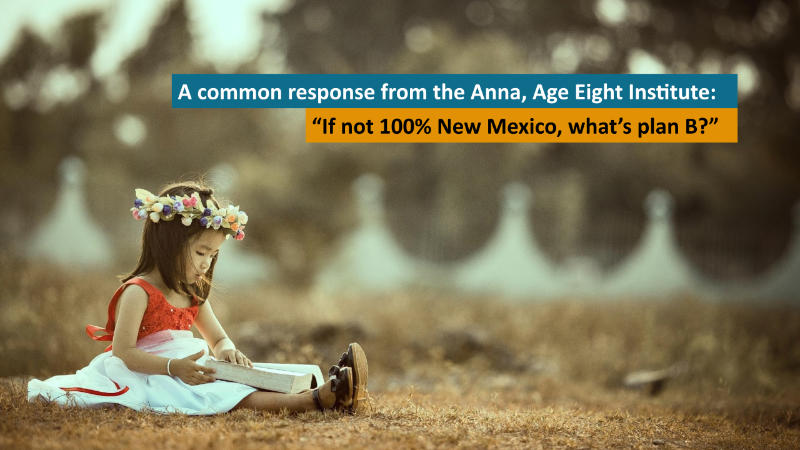 One common response from the Anna, Age Eight Institute when people look at the data on health challenges and barriers to vital service and ask, "Is this initiative really needed?"
"If not implementing the 100% New Mexico initiative, what's your plan B?" We are not here to debate if families merit access to vital services. We are very open to which local strategies solve barriers in ten service sectors. We are collaborative and committed to the transformation that results in measurable and meaningful change.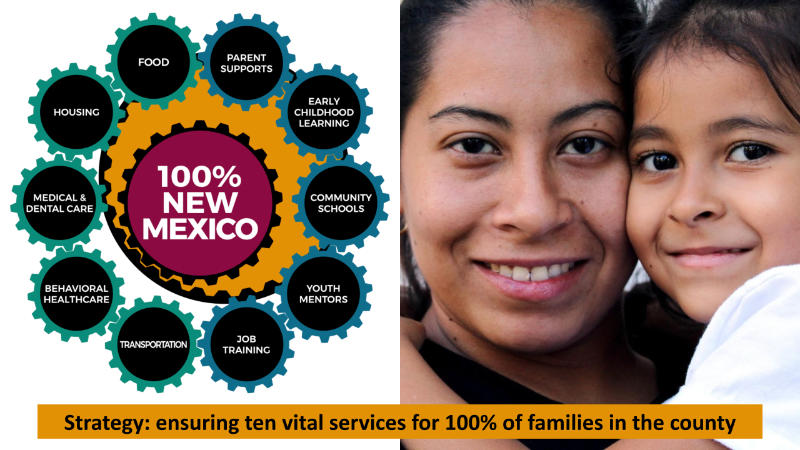 The goal of the data-driven, county-based and technology-fueled initiative is to empower local stakeholders in ensuring ten vital services for surviving and thriving, all key components of a county and city committed to health equity and racial justice.
All the work we do on the local level is measurable. We measure how each of our action teams is moving from planning to action. We are measuring to what degree the development of a 100% Family Center: One Stop Service Hub is happening. We are measuring how each of our public schools are being provided the resources to transform into community schools. We are measuring how healthcare services are growing and the healthcare provider workforce is being developed to address provider shortages.
Evaluation is a key part of the initiative.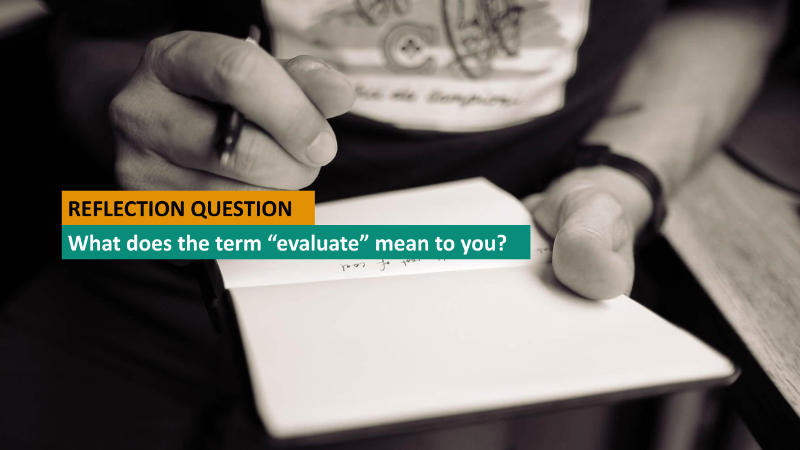 REFLECTION QUESTION: What does the term "evaluate" mean to you?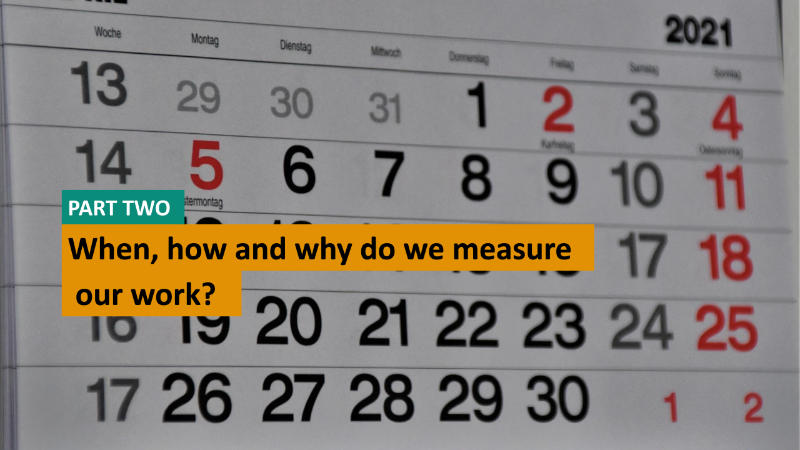 PART TWO: WHEN, HOW AND WHY DO WE MEASURE OUR WORK?
There are important questions to ask, within the context of the 100% New Mexico initiative. One simple one is, "What difference are we making with our meetings and activities?" The answer might be that we are building a network and sharing ideas and concerns. These are valuable activities if they move from convening to planning and action focused on developing projects to remove service barriers.
Another equally important question is, "How empowered do initiative members feel?" We ask this because the success of the local initiative is dependent on members feeling respected, heard, and supported in learning new skills. It is the evaluation phase where the county-based initiative's ten action teams reflect on what they have accomplished as project developers.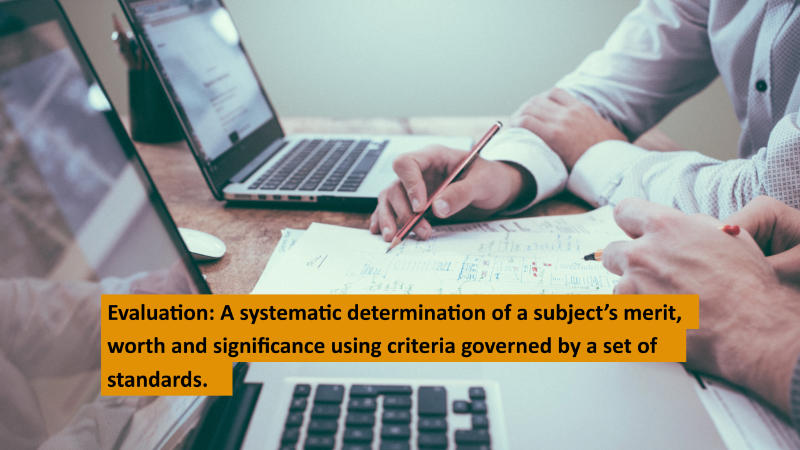 Part Two Part Two begins with a definition of evaluation: A systematic determination of a subject's merit, worth and significance using criteria governed by a set of standards. By "subject" we mean the initiative and its many projects focused on ending barriers to improve health outcomes for families.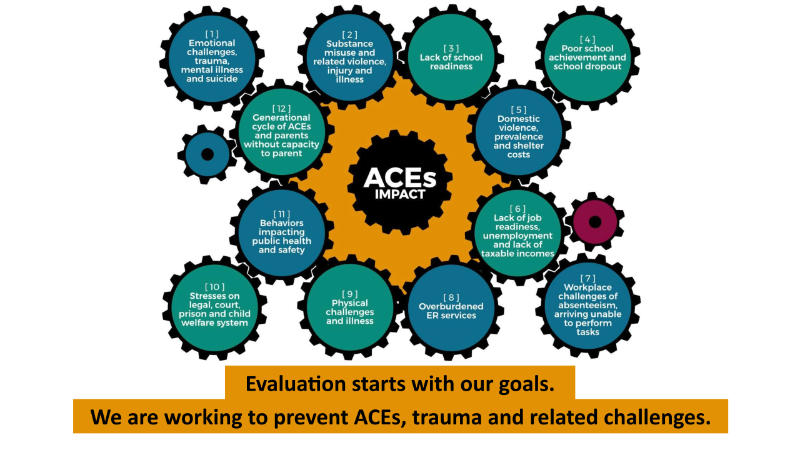 Evaluation reminds us to look closely at our goals. Evaluation will review not only project development and member satisfaction but what impact projects have on the rates of adverse childhood experiences (ACEs), ACEs-related trauma, and the rates of low school achievement, school dropout, substance use disorder-related illness, injury, and fatalities. Evaluation looks at the entire county and all the communities within it to ask, "As a result of our work, are services becoming more accessible?"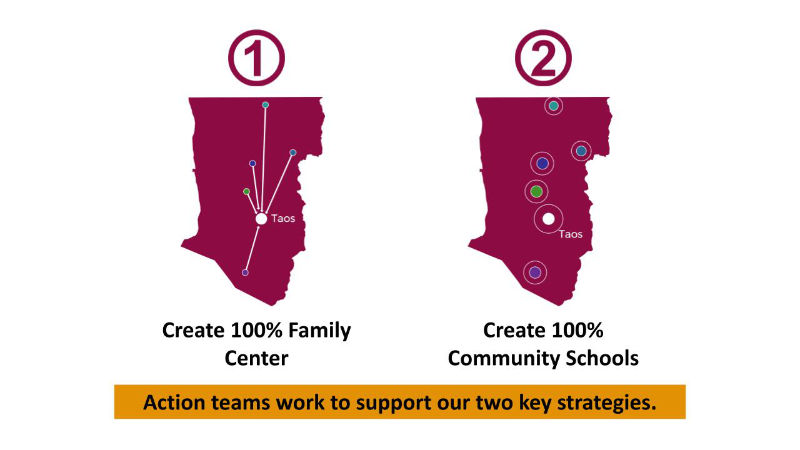 Evaluation helps initiative change agents who are working on our two key strategies: 1) creating the 100% Family Center: One stop hub for ten services, 2) supporting schools is transforming into community schools that can serve as hubs.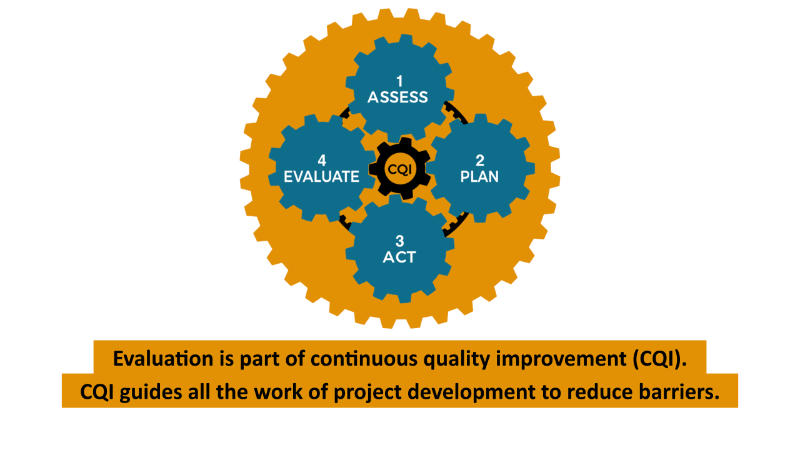 The entire initiative follows the continuous quality improvement process, moving from assessment to planning to action to evaluation. In the evaluation phase, action team projects are reviewed. With evaluation, we can identify how we support action teams as they face challenges developing projects. We identify the roadblocks so we can remove them. We fully understand that many of our projects are long-term, requiring significant local funding. This takes time and we can acknowledge that in our evaluation of project development in all ten sectors.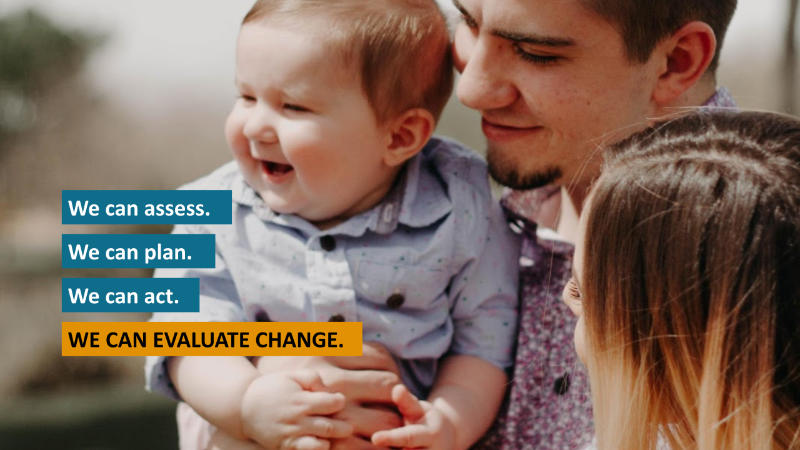 With an eye on our families across the county, action teams are supported in moving diligently to develop projects moving from assessing to planning to action. We can use the evaluation process to troubleshoot in any of the CQI phases.
Ten action teams never lose sight of the data from the 100% New Mexico County survey that illustrates the barriers reported by families. Evaluators also look at the barriers in order to better understand how local projects can reduce them. Repeating the survey over time will reveal to what degree barriers are being reduced. If barriers are not being reduced an initiative will need to rethink its strategies, priorities, and capacity. Evaluation is a powerful tool to help a county initiative grow stronger and more effective in increasing ten vital services.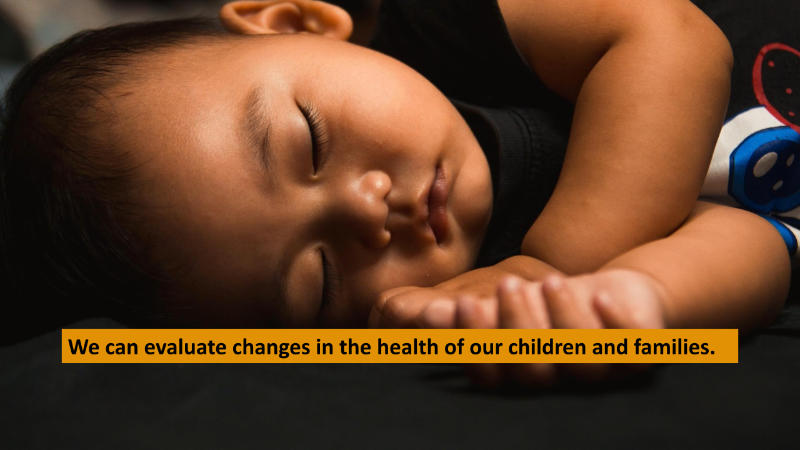 Evaluation is an ongoing process built into the initiative, a way of measuring the health of our children and families each year. Evaluation can measure the transformation process, as communities change from representing adverse social determinants of health into positive ones.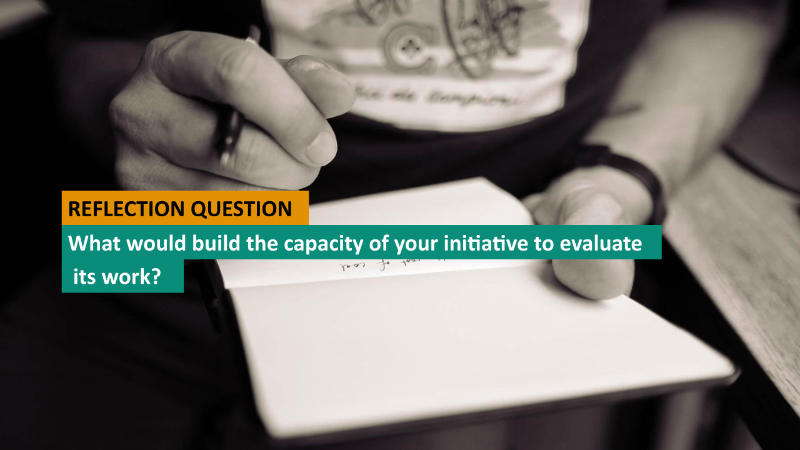 REFLECTION QUESTION: What would build the capacity of your initiative to evaluate its work?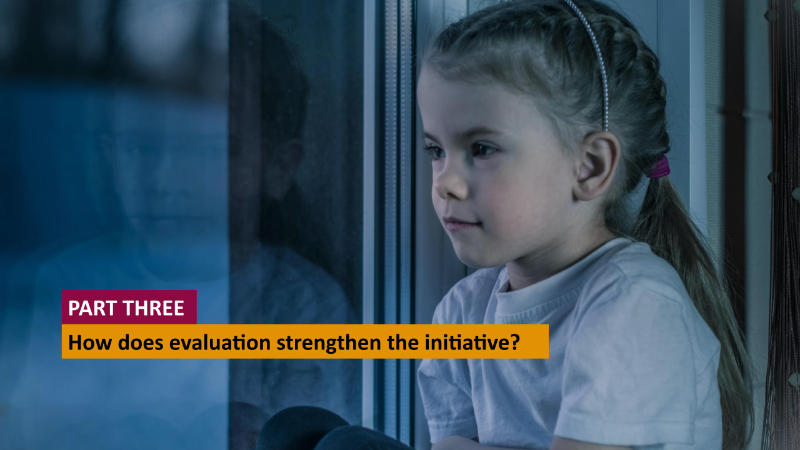 PART THREE: HOW DOES EVALUATION STRENGTHEN THE INITIATIVE?
The Anna, Age Eight Institute provides our county partners the tools to evaluate every aspect of the initiative, from member satisfaction to project development in ten sectors and the capacity to build the infrastructure to become sustainable for the long-term work ahead.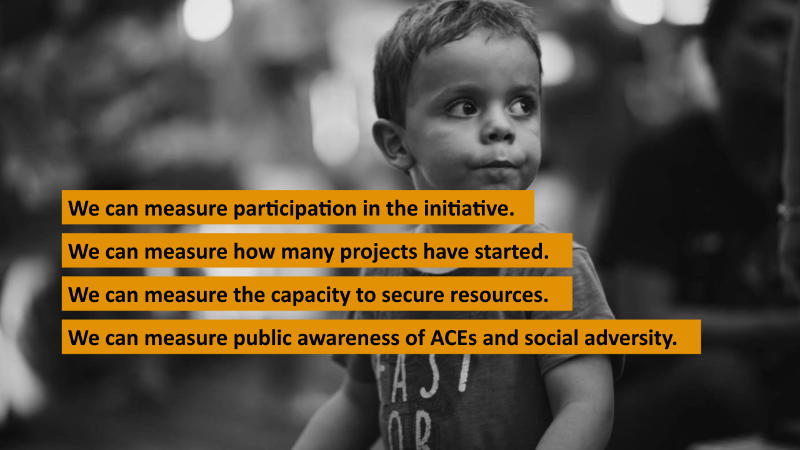 Evaluation has the power to improve the effectiveness of the initiative and support its members. We can measure a variety of components including: the level of participation in the initiative, the number of action team members who can work on the projects weekly as part of their job, how many projects focused on ending barriers have started, and the capacity to raise funds for projects. We can also measure changes in public awareness of ACEs and social adversity.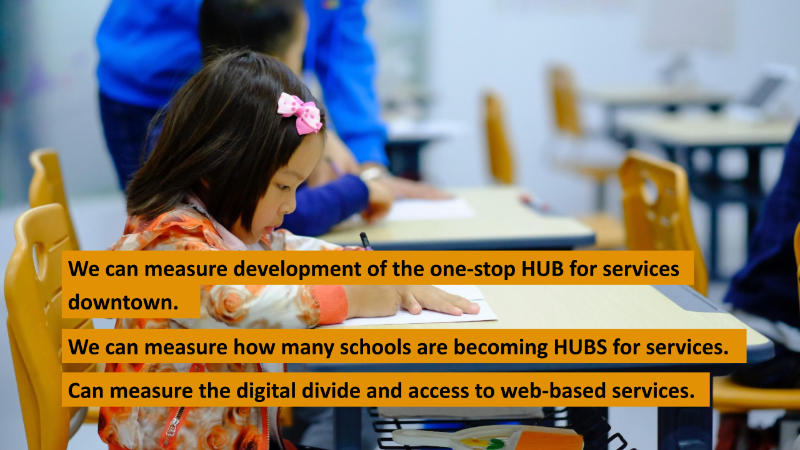 We can measure each year's progress made toward two keystone project goals: 1) creating a 100% Family Center: One-Stop Service Hub in the main population center of a county, and 2) transforming schools into community schools that serve as service hubs for the entire school community.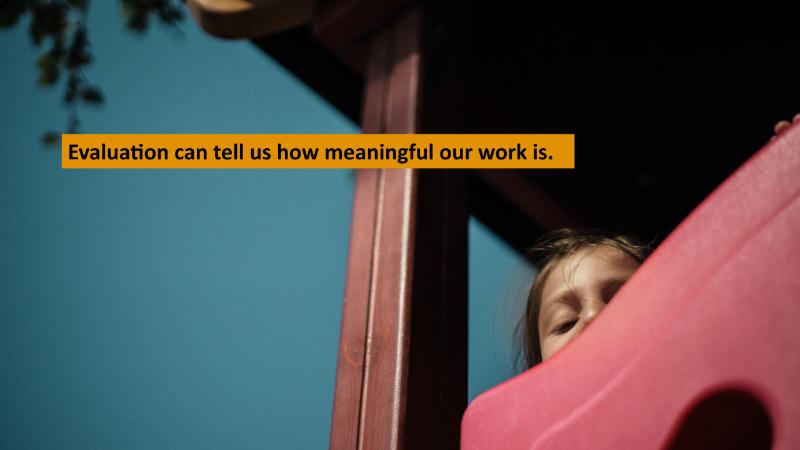 At the end of the day we ask, "As a result of our efforts, are our children, students, families, and communities healthier, safer, and empowered to thrive?"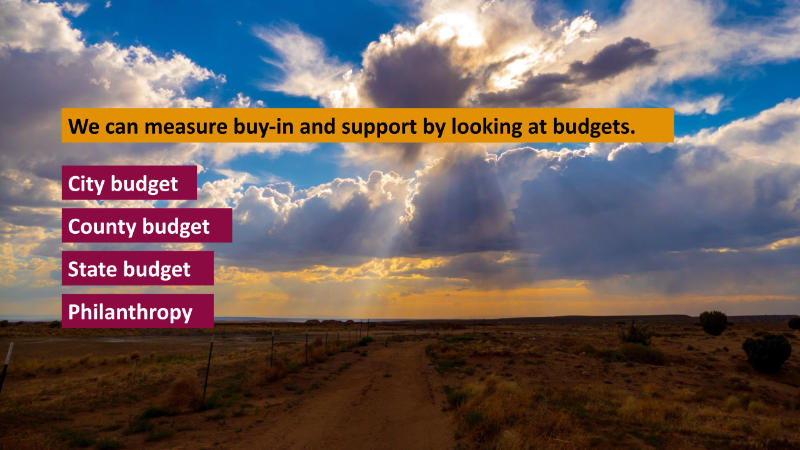 Each local 100% New Mexico initiative is supported in raising funds to support its many projects. Evaluation can identify how successful the local initiative was in securing funding from city government, county government, state entities, and philanthropy. We can learn what the challenges are in raising funds and how to improve the process.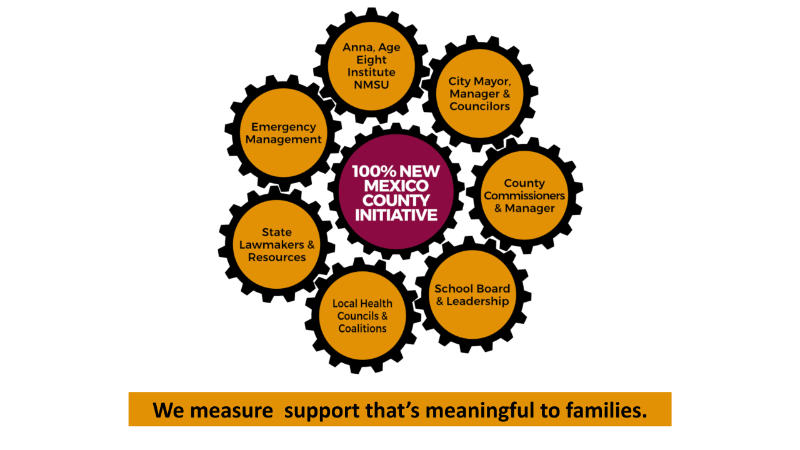 The evaluation process can measure the support that is offered by a variety of partners on the state, county, and city levels. The partners are key to securing funding and support for local 100% New Mexico projects.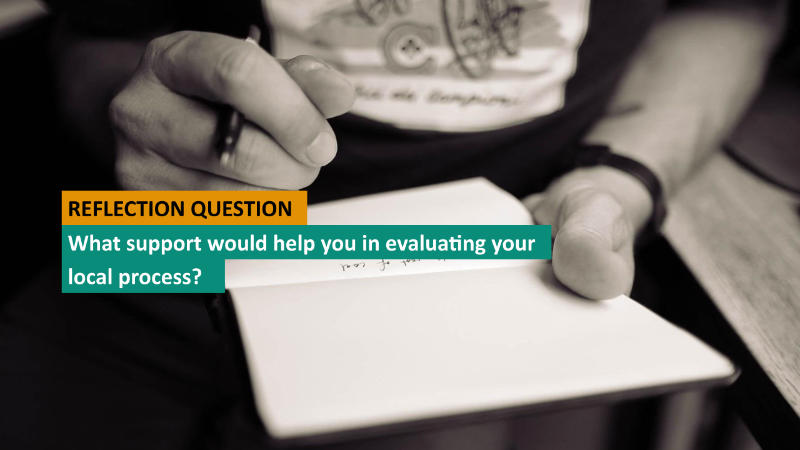 REFLECTION QUESTION: What support would help you in evaluating your local process?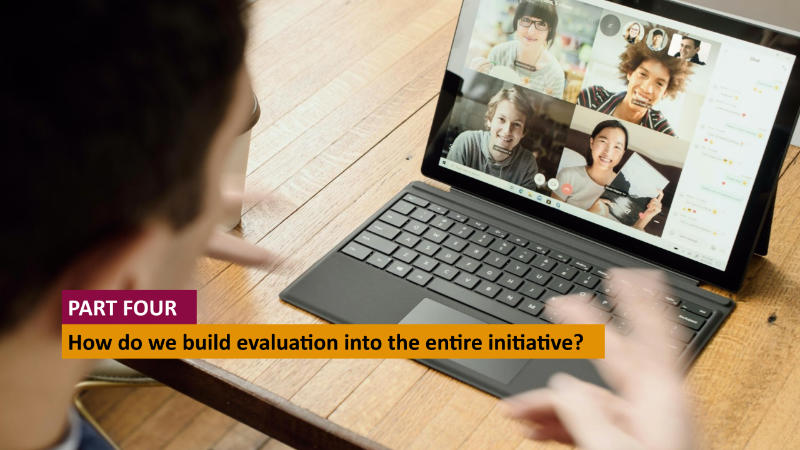 PART FOUR: HOW DO WE BUILD EVALUATION INTO THE ENTIRE LOCAL INITIATIVE?
The continuous quality improvement process can focus on the entire county initiative. To do this requires an evaluation plan and internal buy-in for the process.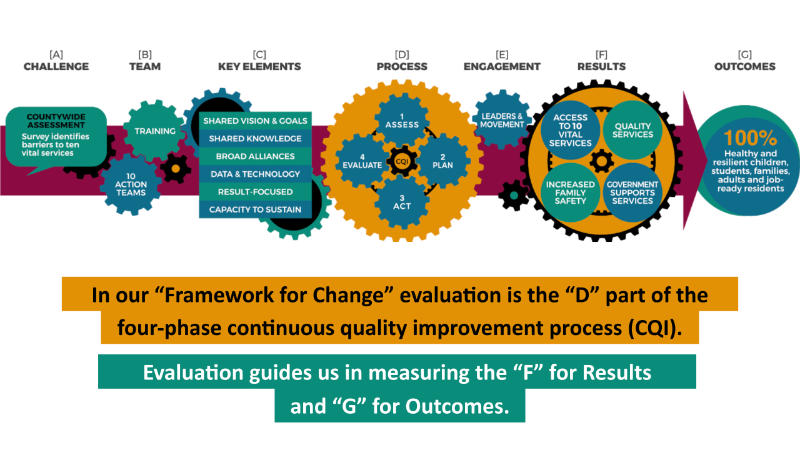 In our "Framework for Change" evaluation is the "D" part of the four-phase continuous quality improvement process. Evaluation is all part of the change process that leads us to "E" and engagement. This means leadership and a local movement committed to our desired result: 100% of our kids and families thrive. From there we move to "F" and measurable outcomes.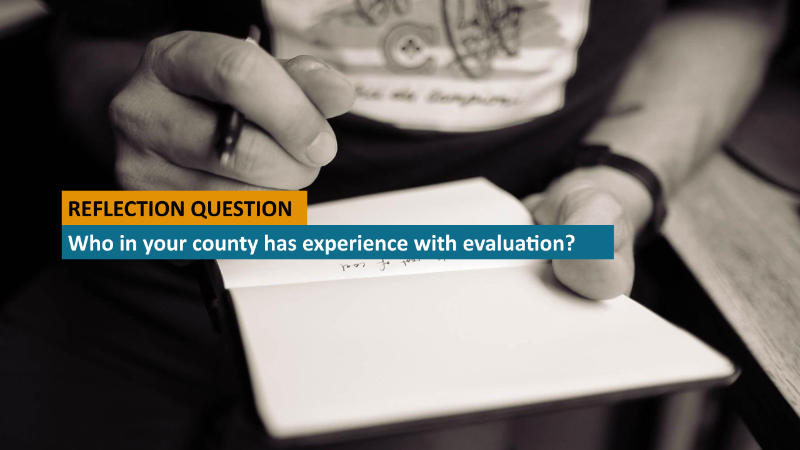 REFLECTION QUESTION: Who in your county has experience with evaluation?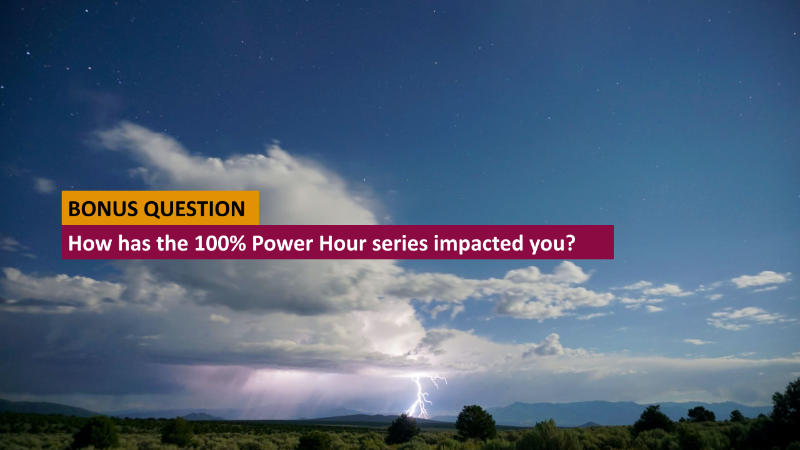 What we are doing with the 100% New Mexico initiative has never been done before in the United States. We are ending barriers to vital services to create a countywide seamless system of care, safety, empowerment. We are building the capacity of each county and city to build the ten services that allow all residents to endure public health crises and economic disruptions.
We are working to ensure that all New Mexicans can live in communities represented by the positive social determinants of health.
We are ending the epidemic of adverse childhood experiences that diminishes our students' capacity to learn and become engaged community members and self-sufficient
We are committed to a New Mexico where 100% can thrive.
BONUS QUESTION: How has the 100% Power Hour series impacted you?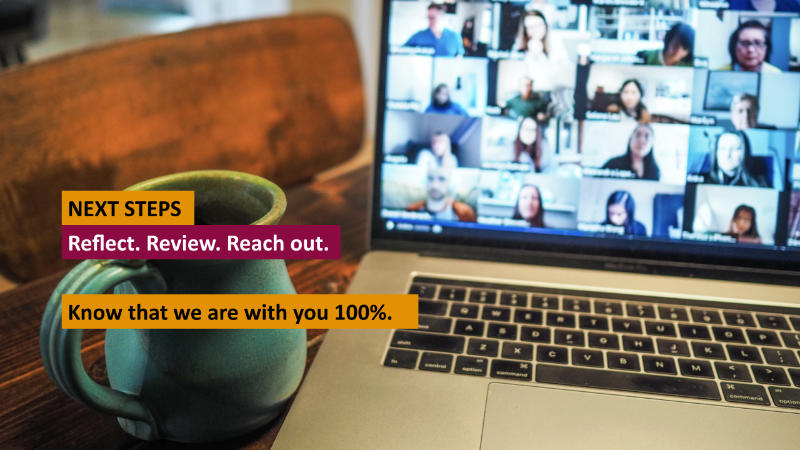 NEXT STEPS: Reflect on the presentation and your notes. Review the books and links to research provided. Reach out to colleagues, friends, family, neighbors, and local elected leaders to discuss the 100% New Mexico initiative. We have designed this presentation so that it can be used with local elected officials within city and county government and school board members, agency leaders (representing the ten vital services), representatives from local higher education, faith-based and community-based organizations, and your neighbors and friends.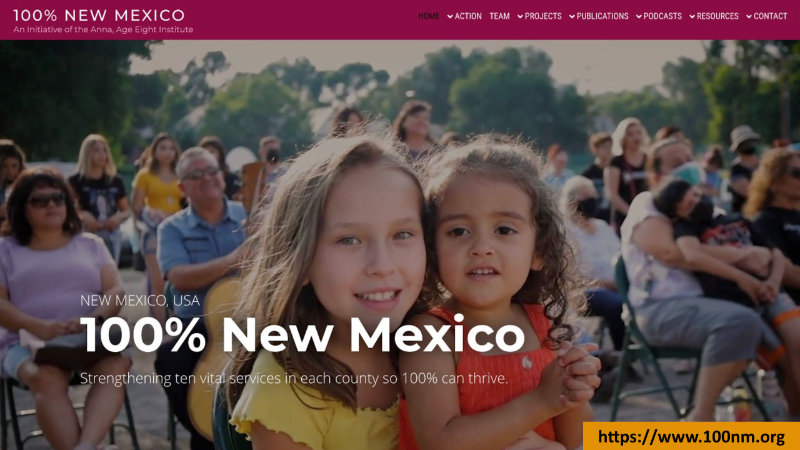 Visit the 100% New Mexico website to access local 100% New Mexico sites across the state, research, data, podcasts, our blog, and frameworks.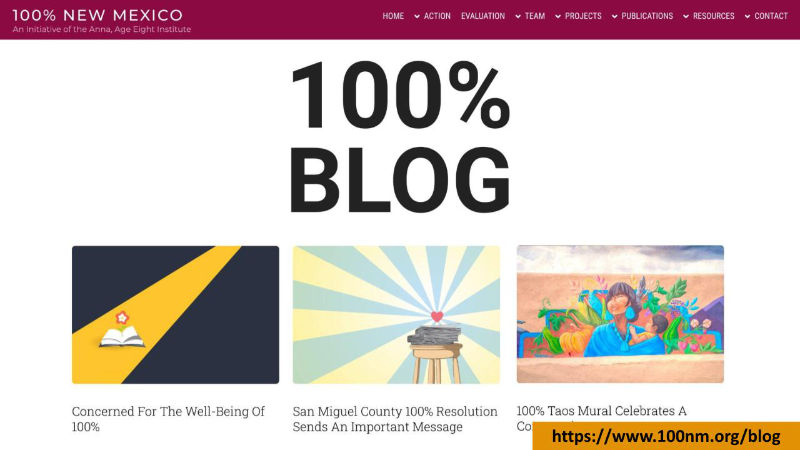 Subscribe to our 100% Blog with articles on challenges, opportunities, and local successes with county initiatives.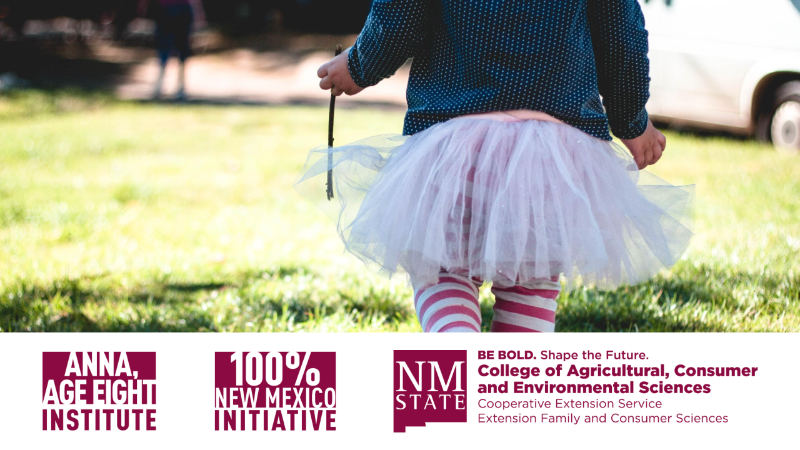 The next 100% Power Hour series will be presented next quarter. We hope you will invite your colleagues, neighbors, and elected officials to participate. see you there. For any questions about the 4-part webinar series, the initiative, research guiding the process, or practical steps in starting the initiative, please contact us annaageeight@nmsu.edu.
Additional Resources
Research
Explore Our Research Pages