100% New Mexico Initiative
100% POWER HOUR
THREE: PROGRAMMING
PLEASE NOTE: This page contains supplemental information for attendees of the 7-part 100% New Mexico initiative power hours. Attendance is free, but registration is required. Please register here.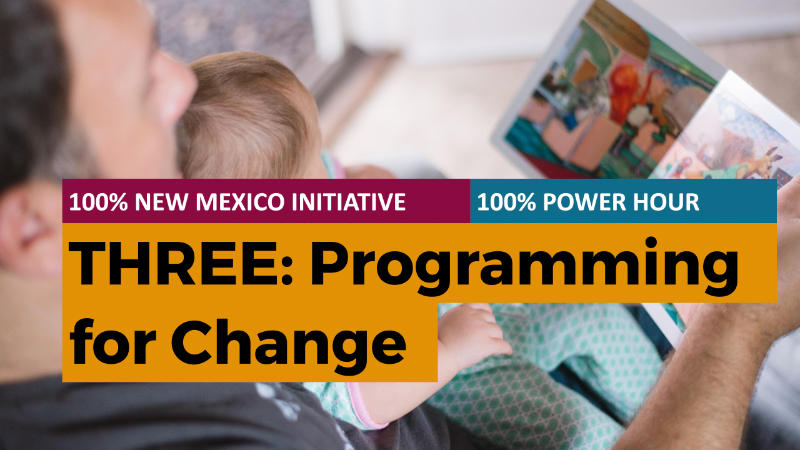 We are providing the slides and narrative text used in the 100% Power Hour: Programming for Change being offered quarterly by the Anna, Age Eight Institute. The 7-part webinar series is designed to give 100% New Mexico initiative members an overview of key concepts and issues related to implementing the initiative in their county. Currently nine counties are engaged in the initiative.
Power Hour participants are encouraged to use this page for local presentations in order to increase public awareness of adverse childhood experiences (ACEs), trauma, social adversity and the data-driven prevention strategies.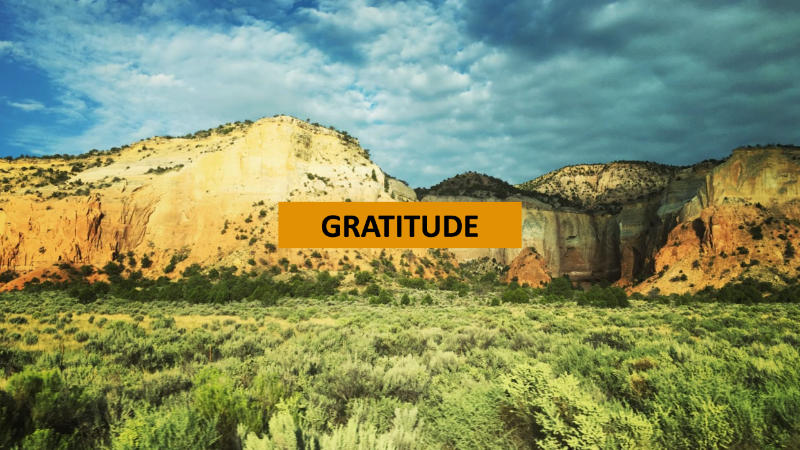 Before we begin our presentation, we want to allow for a moment of quiet reflection. Please take a minute to perform the self-care of your choice.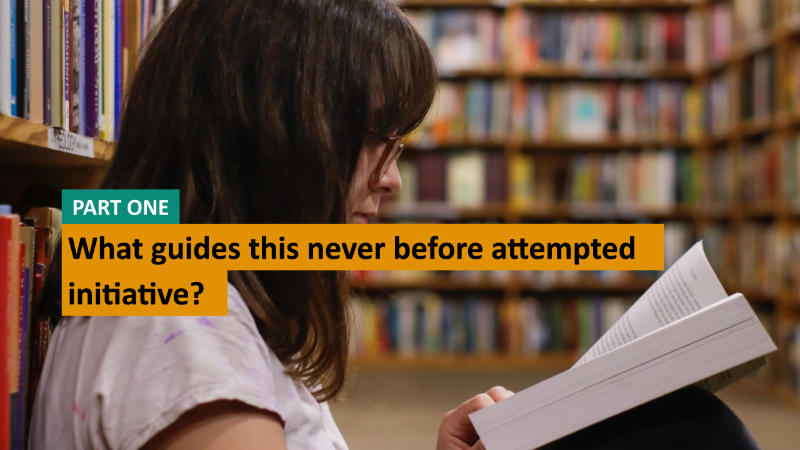 PART ONE: WHAT GUIDES THIS INITIATIVE?
The 100% New Mexico initiative is creating a "new normal", as opposed to returning to the "old normal" that failed so many families. We are united in ensuring that 100% of county residents have access to the ten vital services for surviving and thriving. This never before attempted initiative starts with a book club. Anna, Age Eight and 100% Community guide the groundbreaking strategy designed to prevent adverse childhood experiences (ACEs), trauma, social adversity and promote family health, safety and resilience. The conceptual framework began development in 2015 with research that evolved into an institute and statewide initiative.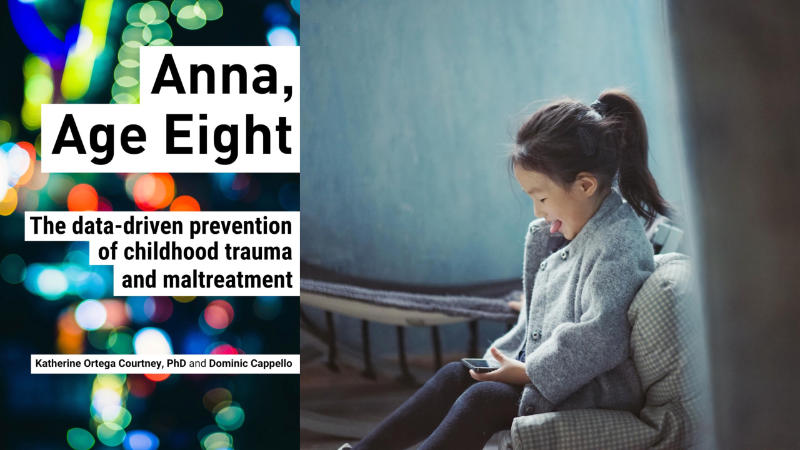 The initiative is the centerpiece of the Anna, Age Eight Institute's programming. It was developed by institute co-directors Katherine Ortega Courtney, PhD and Dominic Cappello who are the co-authors of Anna, Age Eight and 100% Community.
Anna, Age Eight: The data-driven prevention of childhood trauma and maltreatment guides communities in addressing epidemic rates of adverse childhood experiences (ACEs) that occur in the home and social adversity that families face outside their door.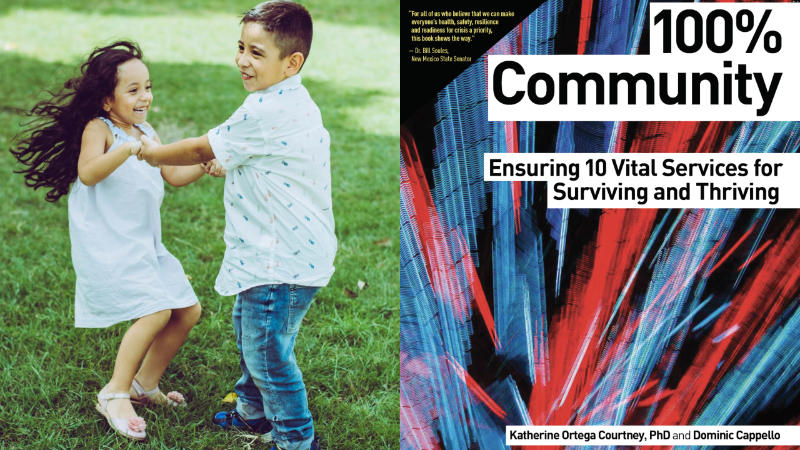 100% Community: Ensuring 10 vital services for surviving and thriving is the blueprint that 100% New Mexico initiative participants are using to assess barriers to vital service and build a countywide system of care that includes timely access to vital services. The book details how we collaborate to build the services in each county.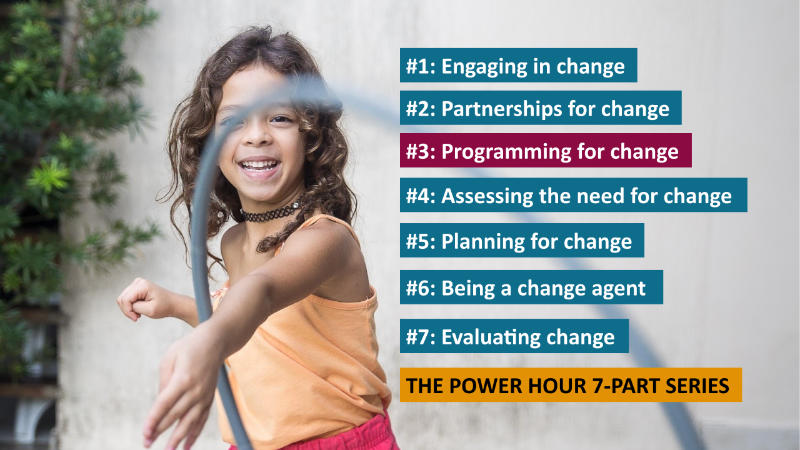 The 100% Power Hour 7-part webinar series was developed to provide initiative participants with an overview of key concepts that guide the initiative. This includes the detailed initiative programming to empower local county and city stakeholders as they address challenges through the process of continuous quality improvement: assess, plan, act and evaluate. Here we focus on programming for change.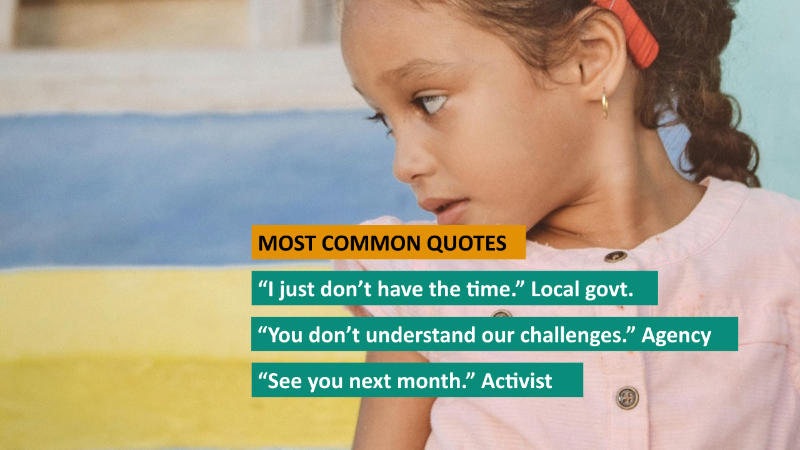 As we begin, we wish to point out three of the most common comments we hear as we discuss the initiative. Some local government representatives will say, "I just don't have the time." Our response is, "Yes, that might be true today. Can we talk about how we reprioritize the work of local government so that time becomes available?" Local agency representatives might say, "You don't understand our challenges." We respond, " How can we learn from you so we all share an understanding of the challenges our residents and service providers face?" And some change agents might say, "See you next month." We stress that while monthly meetings are very important, our work building services to address gaps is done in between meetings. Our capacity-building work is dependent on change agents having the time to commit to project development.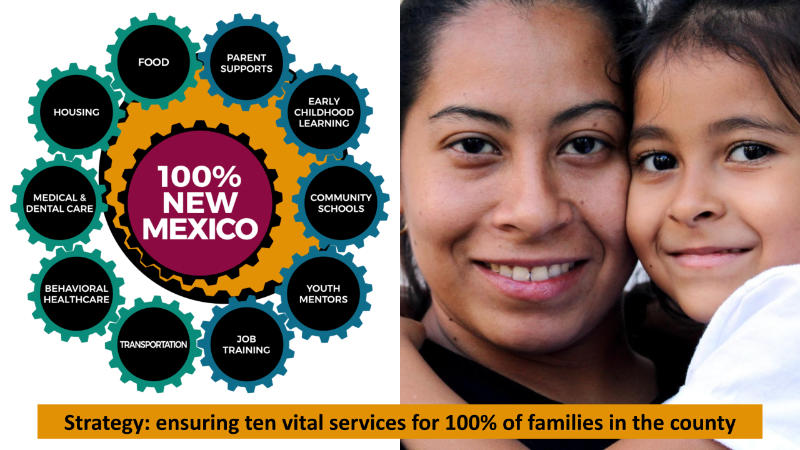 The goal of the data-driven, county-based and technology-fueled initiative is to empower local stakeholders in ensuring ten vital services for surviving and thriving, all key components of a county and city committed to health equity and racial justice.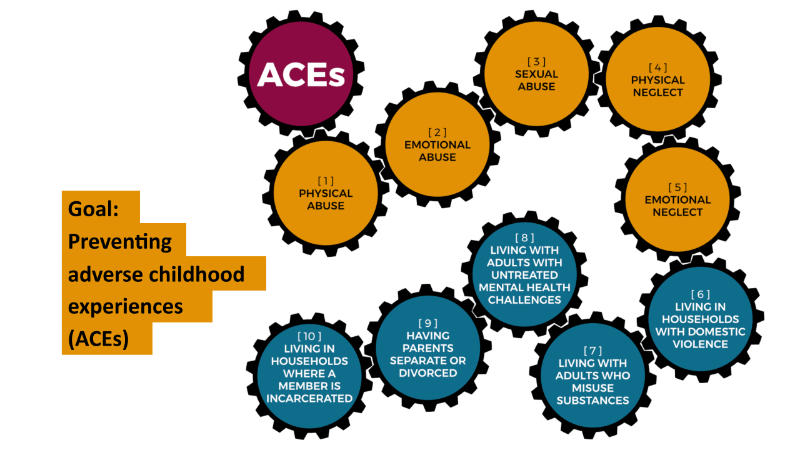 Our goal is to identify the root causes of adverse childhood experiences and work to prevent the ten forms of adversity that include abuse, neglect and living in homes where adults have substance use disorders, engage in violence and have untreated mental health challenges.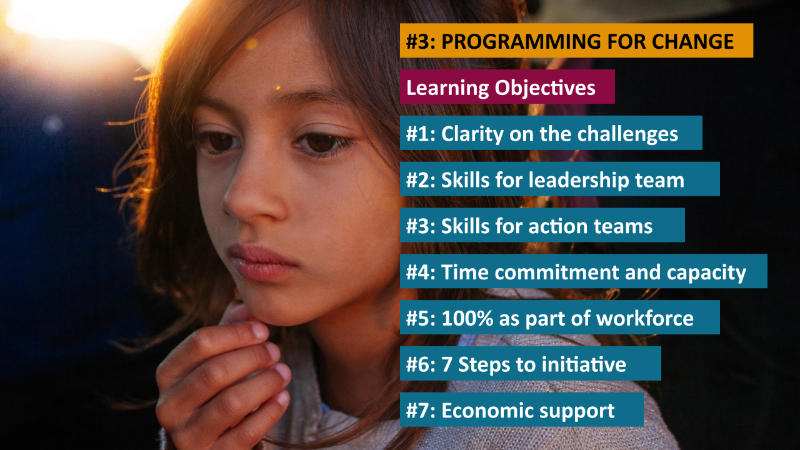 The learning objectives of 100% Power Hour #3: Programming for Change are participants completing the webinar will be able to describe an overview of: the challenges families are enduring, skills of the initiative's leadership team, skills of the action teams, time capacity of all initiative participants, working on the initiative as part of one's job, seven steps of the initiative, and identifying economic support.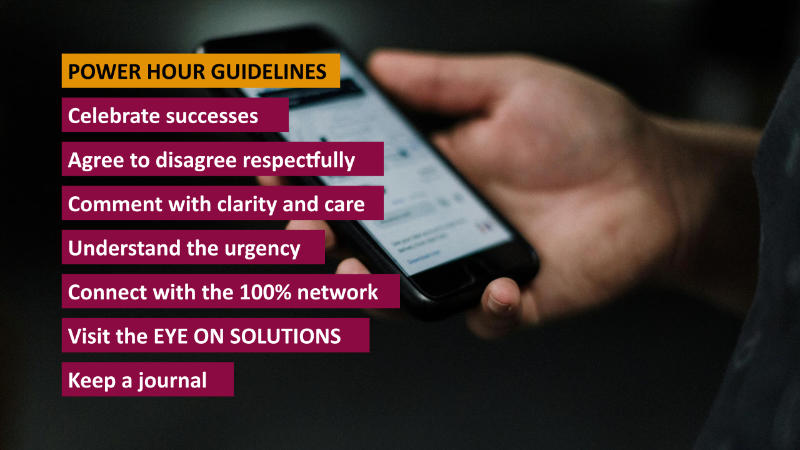 The 100% Power Hour process is designed to create a vehicle for building awareness of the initiative and serve as a catalyst for ongoing local community dialogue. The presentation design follows the "teach the teacher" format, developed to allow participants to provide the presentation to their initiative members and local stakeholders. To create an environment for community dialogue, we offer simple guidelines.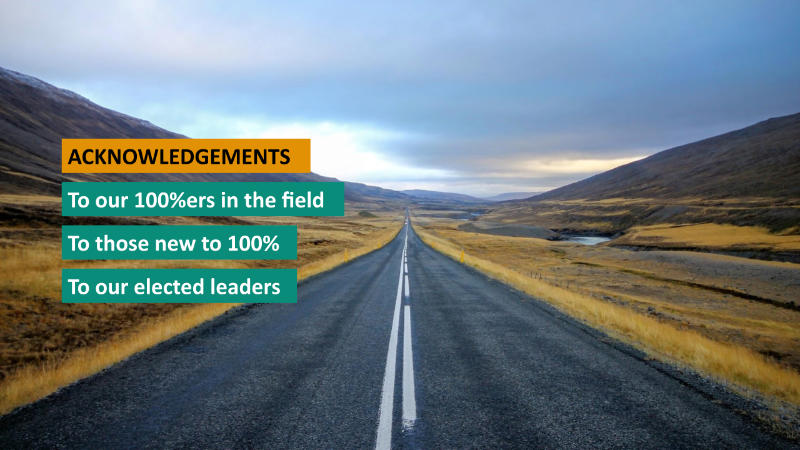 We acknowledge the contribution of all initiative members across the state who have been part of the iterative process of developing the initiative to meet the unique needs of rural and urban families, as well as those serving culturally and economically diverse populations in the south and west. We also are grateful to the state and local lawmakers who have supported the initiative.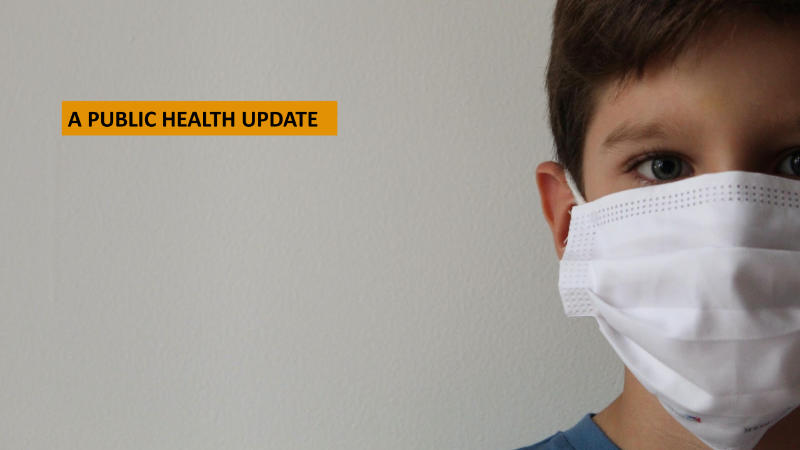 This presentation takes place amid the COVID-19 pandemic and we pause to present an update on progress made with the vaccine implementation and delivery of medical care services for individuals and families across all 33 counties.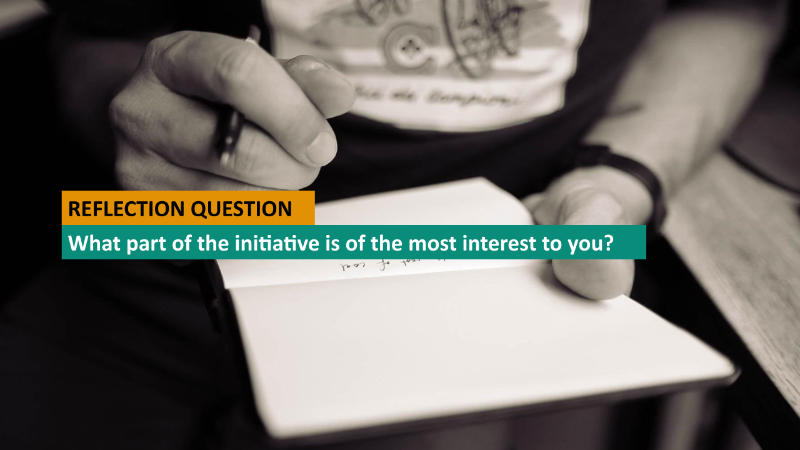 REFLECTION QUESTION: Before moving on, take a few moments to reflect on which parts of the 100% New Mexico initiative most interest you.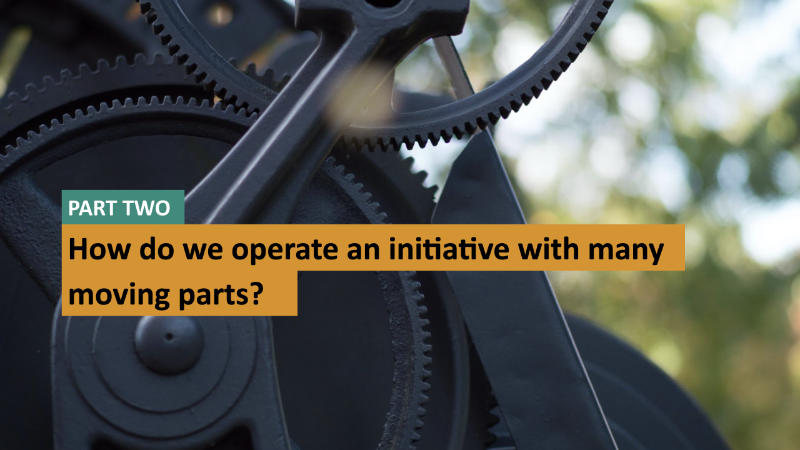 PART TWO: HOW DO WE OPERATE AN INITIATIVE WITH SO MANY MOVING PARTS?
There are important questions to ask, within the context of the 100% New Mexico initiative. One simple one is, "How can local change agents, focused on one county, coordinate all the activities to remove service barriers, ensuring all residents timely access? First, our book 100% Community provides a good blueprint. Second, a leadership team works diligently to offer clear communication to all initiative participants following the collective impact framework.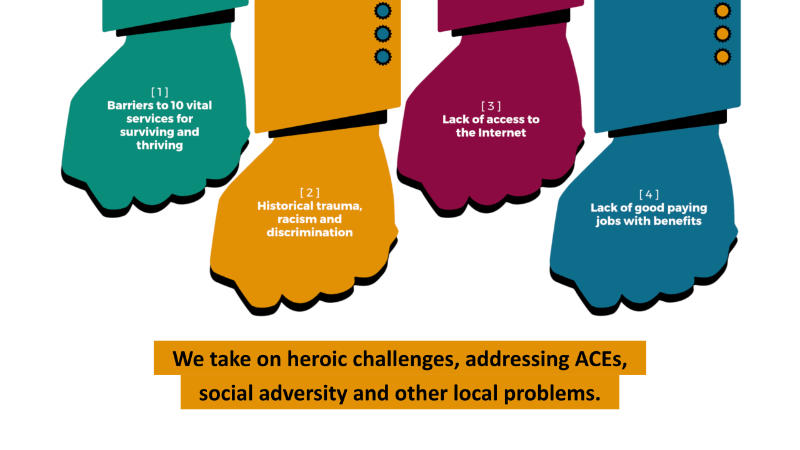 Part Two begins with acknowledging the long-standing and costly challenge called social adversity. This include barriers to services, racism and discrimination, lack of web-based services and support, and lack of good paying jobs with benefits. We are taking on heroic work. This has never been done before in a systematic way across an entire county.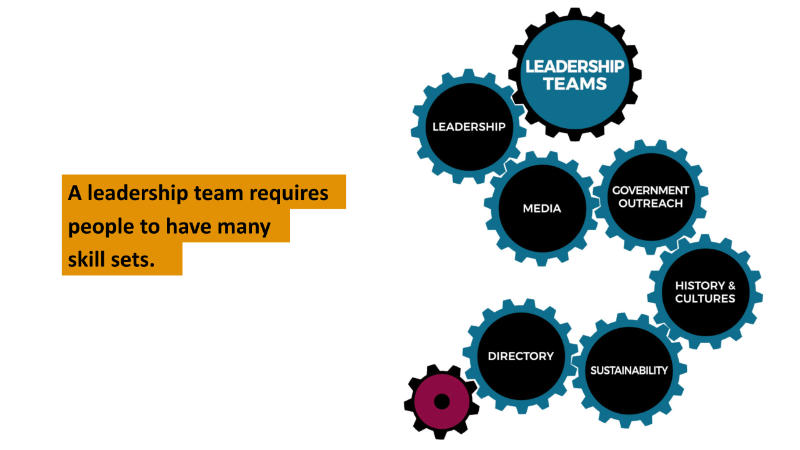 The 100% New Mexico initiative is guided on the county level by leadership teams, including the public awareness and media team, resource directory team, government outreach team, sustainability team and task force on historical disparities and culture addressing issues of culture and racial equity. A local team may also want a research team to support each of the action teams (who may have their own research specialists).
In addition to the leadership teams, there are ten action teams, each one focused on removing barriers to the ten vital services for surviving and thriving. Each team, headed by action team leaders, will have members with skill sets in data and research, project development, government relations, and public awareness and media. The action team is also responsible for assessing their service sector in order to update the resource directory.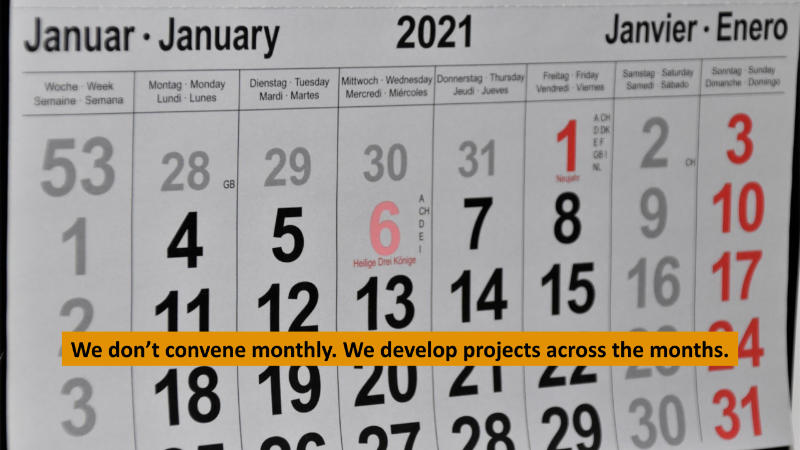 We are not like many coalitions that only convene monthly. Our project development requires action team members who can commit time to design and implement projects throughout the month.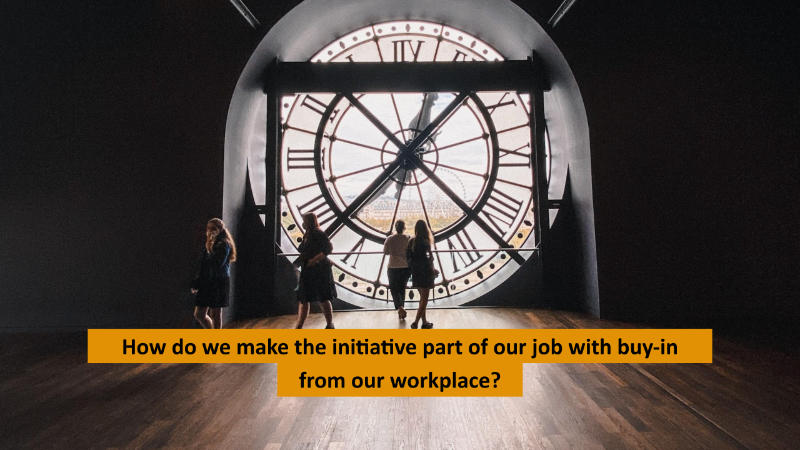 Ideally, action team members work on project development as part of their jobs with buy in from supervisors. Our goal is to make the initiative sustainable, with active members from city and county government.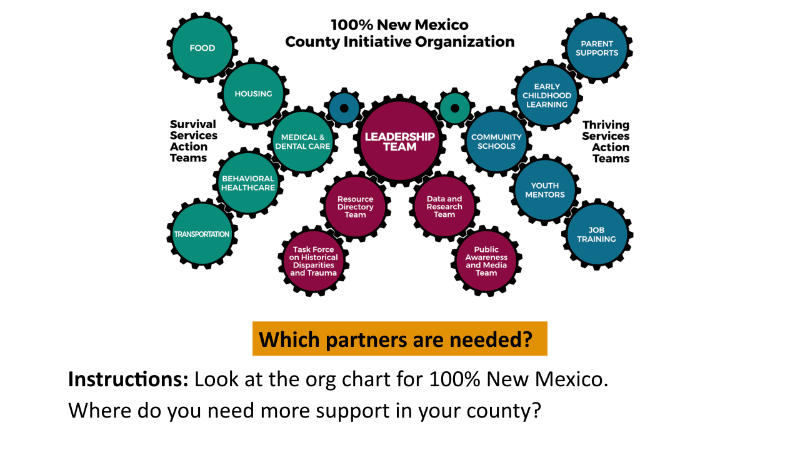 INSTRUCTION: Please review the org chart, noting where you will need to strengthen support in the various teams.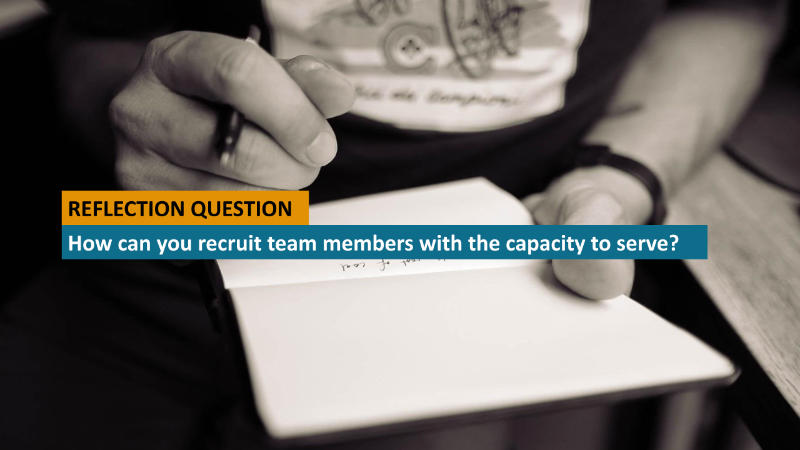 REFLECTION QUESTION: How can you recruit initiative team members with the capacity to serve and work on projects throughout the month?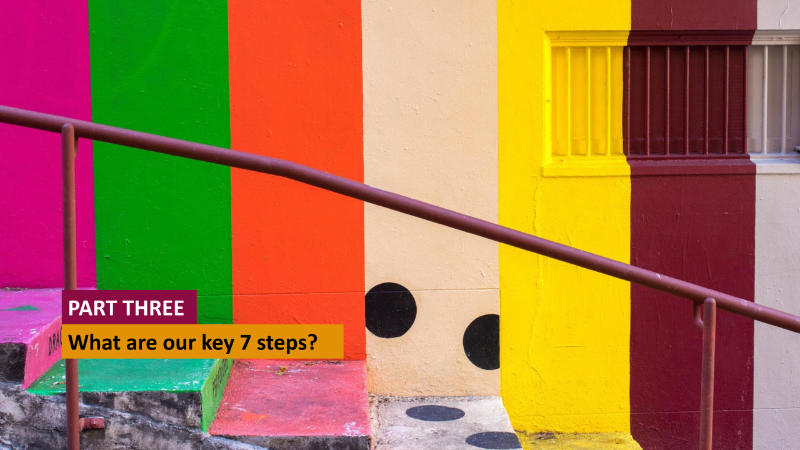 PART THREE: WHAT ARE OUR SEVEN STEPS?
Potential partners are, like all of us, bombarded with requests to join coalitions, causes and put time into various work-related activities. We need to be able to give a three-minute elevator pitch, but instead of selling a movie idea we are promoting a groundbreaking initiative. The goal of the pitch is to engage local partners in the initiative and support our seven key steps.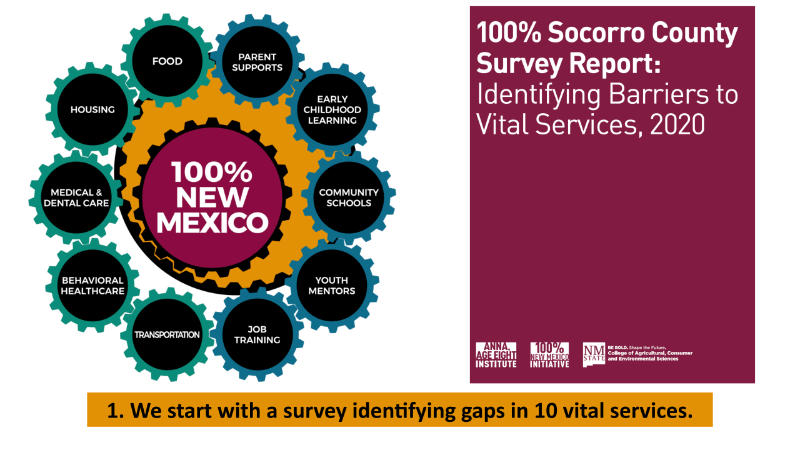 STEP 1: SURVEY YOUR COUNTY RESIDENTS
Initiative teams implement a countywide survey that assesses resident's access to 10 vital services for surviving and thriving (like health care, transport and job training) and why barriers exist. You'll learn that different populations will have different challenges.
How are our families surviving?
Initiative teams are surveying families across their county, getting the answers about gaps in vital services.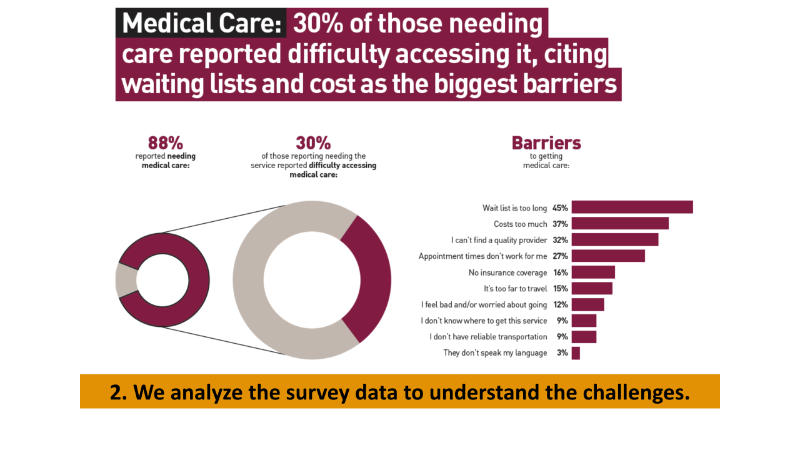 STEP 2: REVIEW SURVEY RESULTS
Initiative teams review the survey data to learn what percentage of county residents struggle to access vital services, and why challenges accessing services exist and where they exist in the county. You can review the data from the countywide survey, especially the barriers to accessing services. Each barrier (such as unfriendly hours, lack of transport to services) will require analysis and a plan to address it.
What are barriers to services?
Initiative teams are analyzing survey results to identify where barriers to vital services exist and why.
STEP 3: ASSESS THE TEN SURVIVING AND THRIVING SERVICES
Initiative teams, including ten action teams created (each one focused on one sector such as food or medical care) learn about the capacity of current services in all 10 surviving and thriving sectors. The goal is to understand challenges service organizations face when meeting the needs of county residents.
What's the capacity of providers?
Initiative teams are assessing why service providers and organizations struggle to meet local needs and how to increase their capacity. Explore the San Miguel 100% initiative and other initiatives across New Mexico.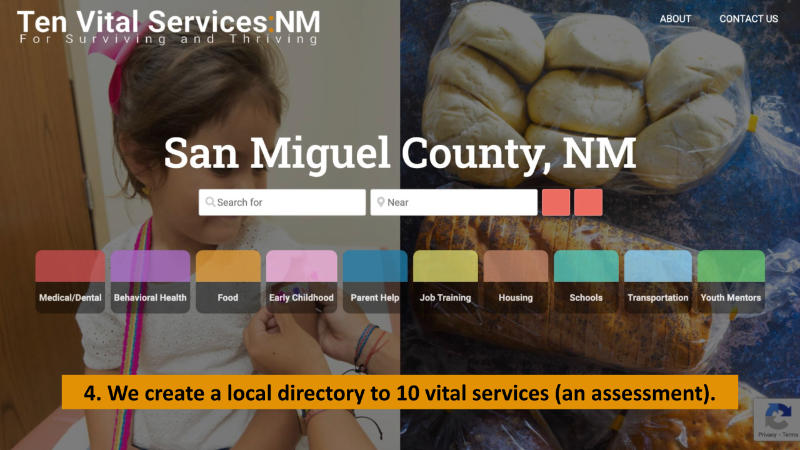 STEP 4: ENSURE THAT A COUNTY DIRECTORY TO TEN VITAL SERVICES EXISTS
Each of the county's ten action teams update an existing online directory to services or create a new updated directory guiding residents to the ten vital services. (Note that directories will need local monitoring and updating based on changes in services due to COVID-19).
Initiative teams are designing directories and constantly updating them to provide accurate information. Visit the new directory for San Miguel County.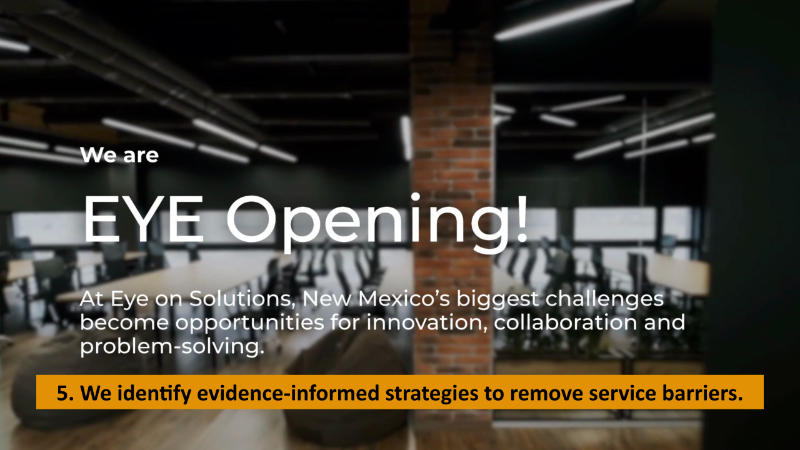 STEP 5: IDENTIFY INNOVATIVE POLICIES AND PROGRAMS TO FIX BARRIERS TO ACCESSING TEN SERVICES
To address the barriers identified in the countywide survey, initiative teams learn about innovations in all ten sectors that can increase access, user-friendliness and quality of services. The book 100% Community and the @100% book series on each of the ten sectors offer many potential innovative strategies to reduce gaps in services and strengthen a countywide system of support. The EYE ON SOLUTIONS website also serves as a repository for evidence-informed strategies shown to reduce service barriers. Action Teams can review and prioritize innovations.
Initiative teams are exploring a menu of evidence-informed strategies to ensure all residents can access services.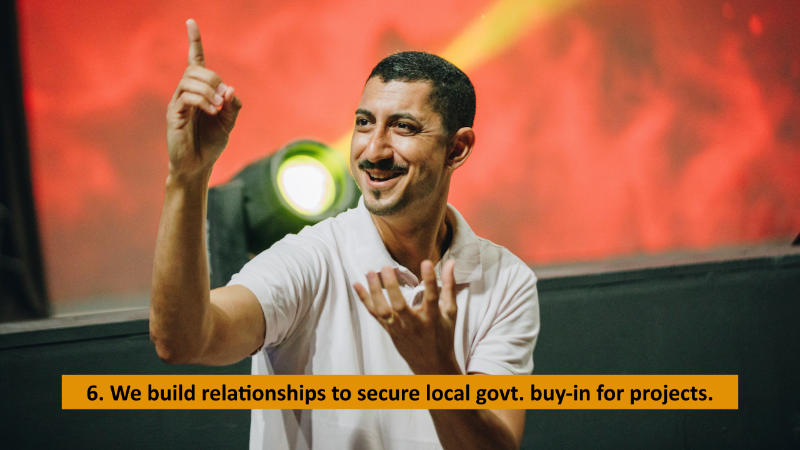 STEP 6: GET BUY-IN FROM LOCAL GOVERNMENT AND STAKEHOLDERS TO SUPPORT INNOVATION THAT ENSURES 100% OF COUNTY RESIDENTS HAVE ACCESS TO TEN VITAL SERVICES
Initiative teams identify, support and implement innovations including new technologies, local policies, programs and agency protocols. This is the action phase that requires project management and ongoing tracking of local innovation in ten sectors.
How do we engage local leaders?
Initiative teams are strengthening partnerships with local elected leaders and stakeholders, working in alignment. We engage leaders through relationship-building and dialogue. We share survey results and the cost of ACEs and social adversity.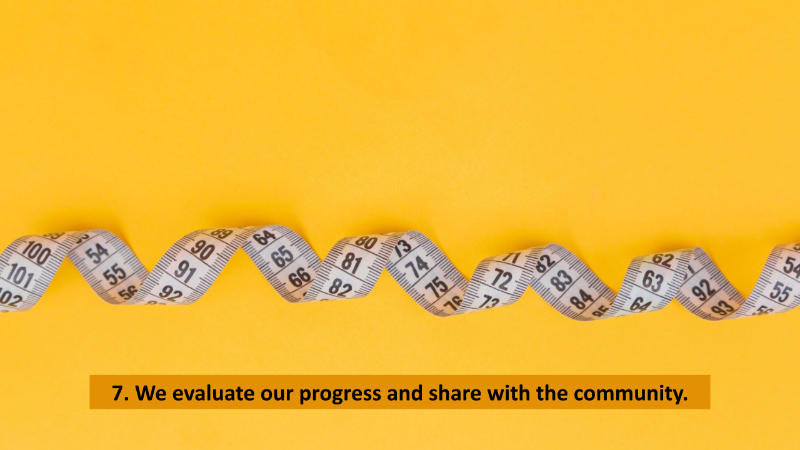 STEP 7: EVALUATE EFFECTIVENESS OF EACH INNOVATION AND MEASURE THE INCREASE IN ACCESS TO TEN VITAL SERVICES
Initiative teams measure the impact of innovations on all ten surviving and thriving services with feedback from residents and providers. We work to ensure that our local work on each innovation is moving the needle on improving access to services so that 100% of residents thrive.
Initiative teams are using a variety of tools to ensure that they can measure meaningful progress.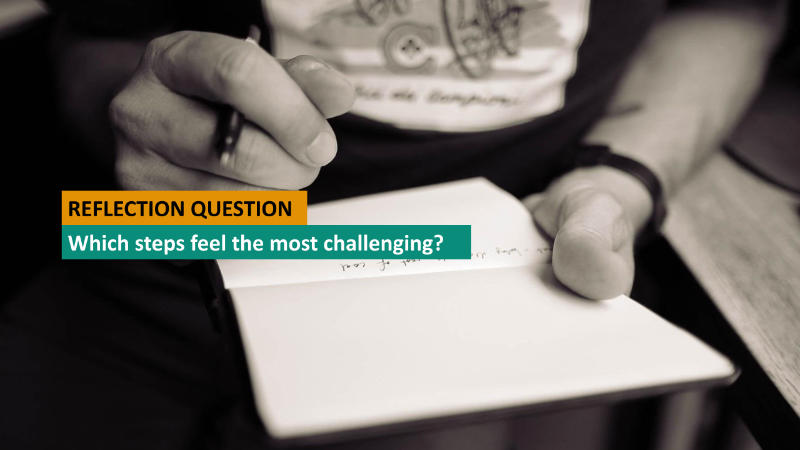 REFLECTION QUESTION: Which of the seven steps feel the most challenging and why?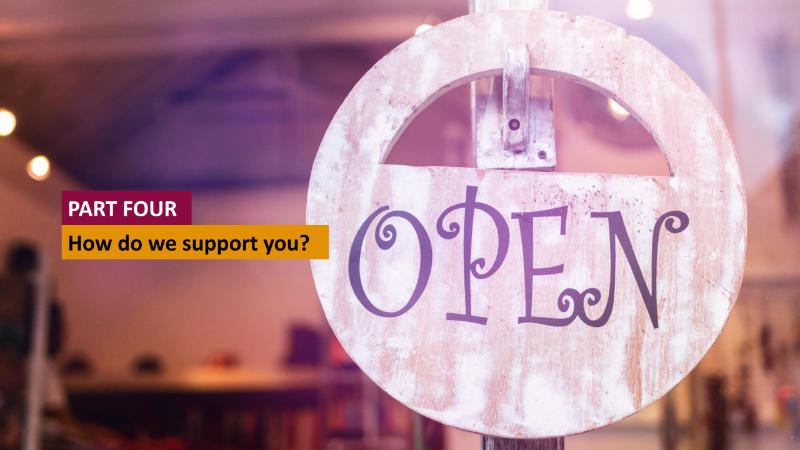 PART FOUR: HOW DO WE SUPPORT YOU?
The 100% New Mexico initiative provides each county initiative with technical support to organize teams and complete all seven steps. We also support each team in identifying funding to strengthen all components of the initiative, including project development in all ten sectors.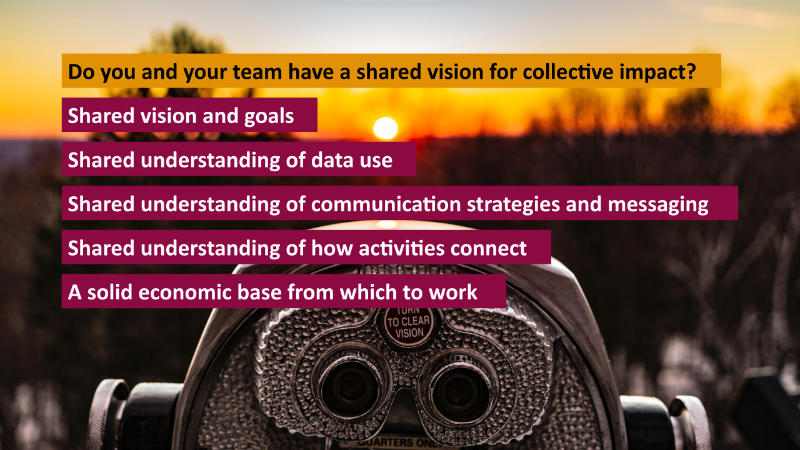 Our initiative is guided by the collective impact framework which focuses on five areas: a shared vision and goals, shared understanding of data use, shared understanding of communication strategies and messaging, shared understanding of how all activities connect and a solid economic base from which to work.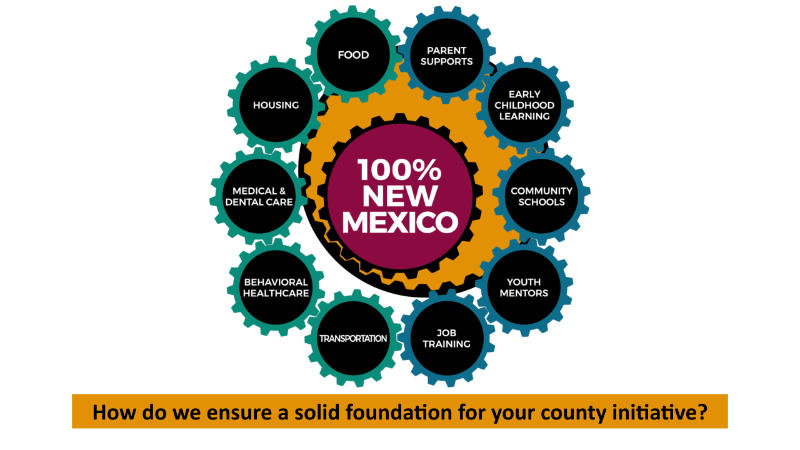 Our initiative is also guided by the social-ecological model. It is a framework that can guide local initiatives if they have a solid economic foundation from which to work. We can help all county initiatives identify and secure the right fiscal sponsor and homebase. This might be higher education or a local foundation. To apply for grants will require a fiscal agent and ideally one with the capacity to support grant writing.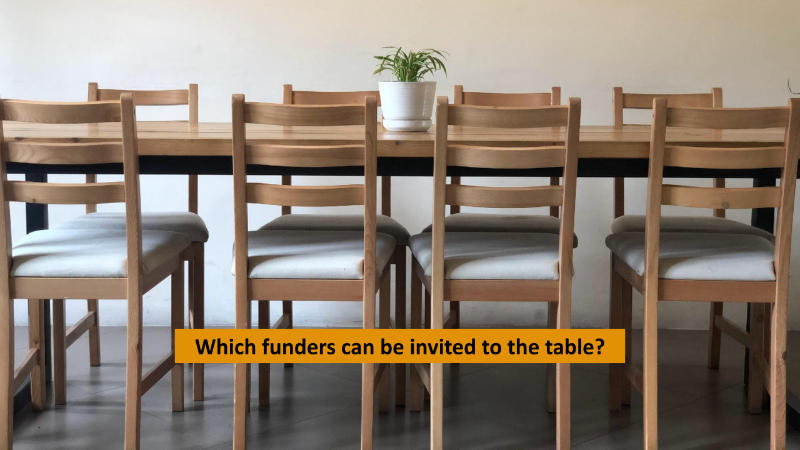 Which local or regional funders can be invited to the table to support your county-based initiative? Are there leaders within county and city government who can support you?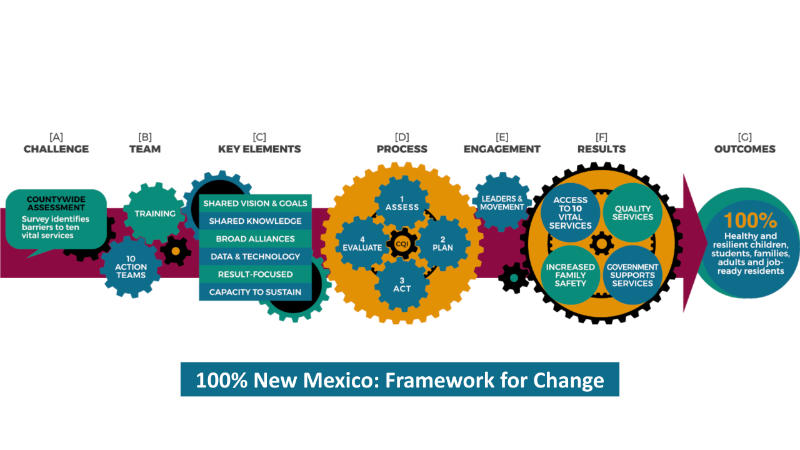 As you review our initiative's framework for change and its seven components, which potential funders might support which phase of the initiative?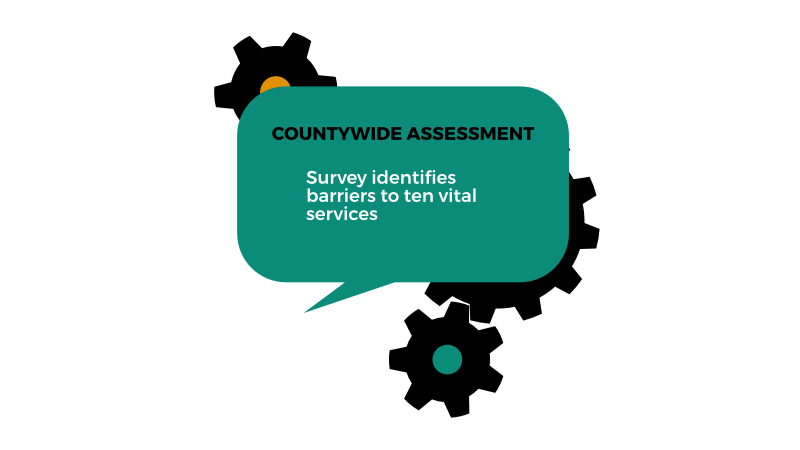 [A] CHALLENGE: We begin with our 100% New Mexico county-wide survey of parents and youth to identify local challenges and barriers to vital services.
[B] TEAM: Local champions then mobilize and create a local team, including a variety of task forces and ten action teams. Training builds the capacity of each initiative member.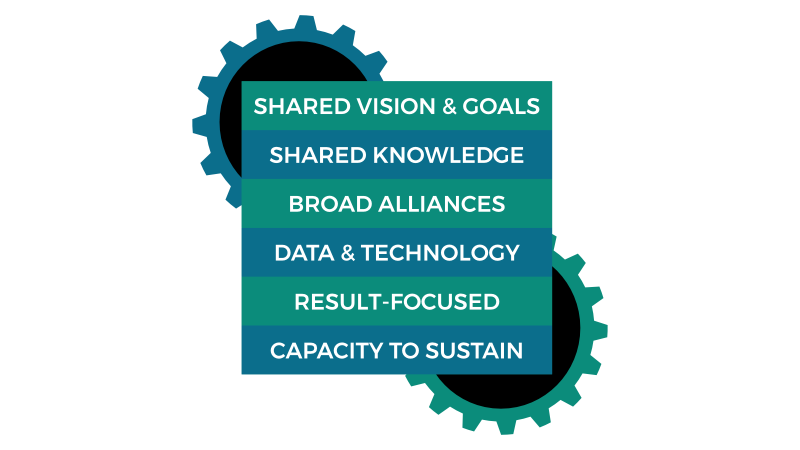 [C] KEY ELEMENTS: The local initiative commits to a shared vision and other components of the Collective Impact framework.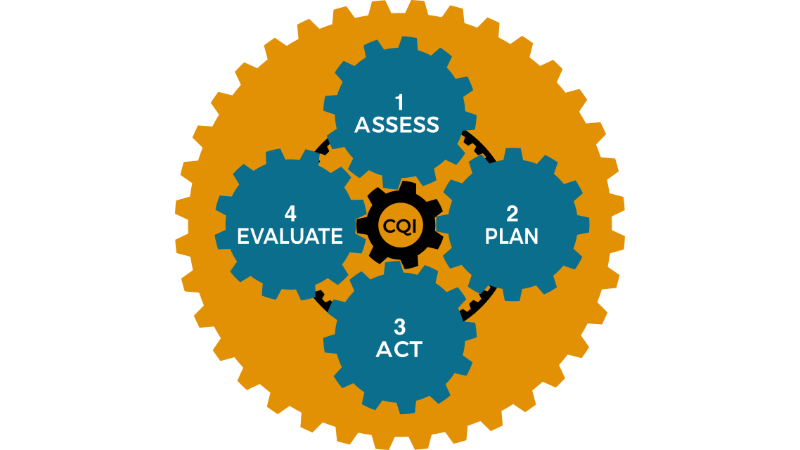 [D] PROCESS: Each of the ten action teams (each one focused on removing barriers to one of the ten vital services for surviving and thriving) begins a process of continuous quality improvement (CQI). In this data-driven process, action teams identify the evidence-informed strategies/projects which show the most potential to remove barriers and increase access to quality services. Each team has 20-25 projects to choose from as a starting point.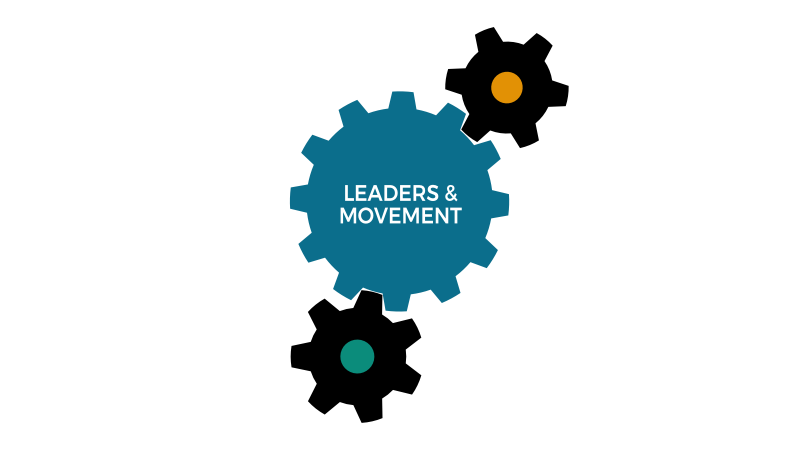 [E] ENGAGEMENT: Community engagement is a vital part of the initiative process, securing buy in from local residents and elected officials for working to ensure vital services.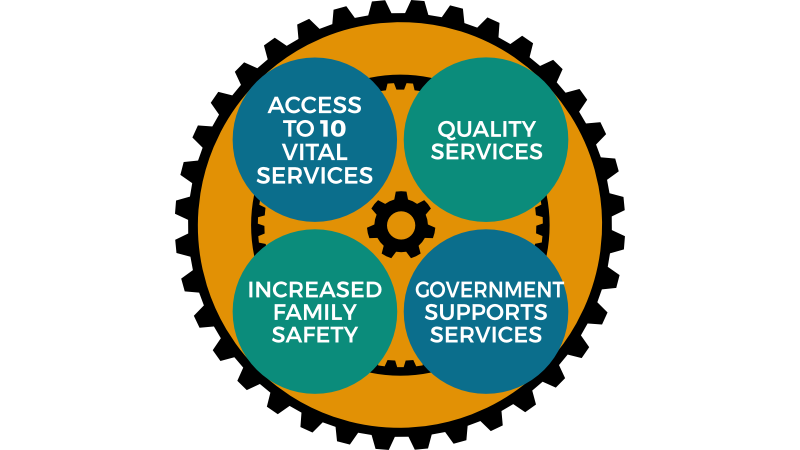 [F] RESULTS: Our focus is on the results in our measurable process. We can evaluate if our projects are increasing access to service, as well as improving services in all ten sectors.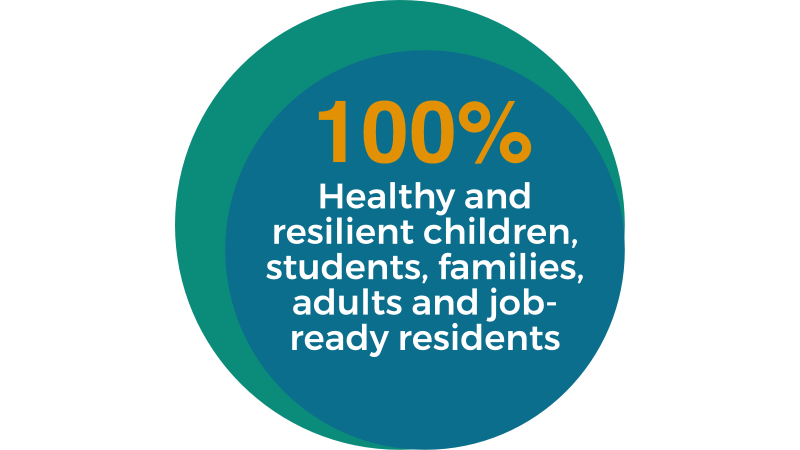 [G] OUTCOMES: We work to achieve our vision and goal of 100% of families having access to the vital services, and with it increased health, safety, resilience, school achievement, job readiness and employment.
Which potential local partners can support various components of the framework for change?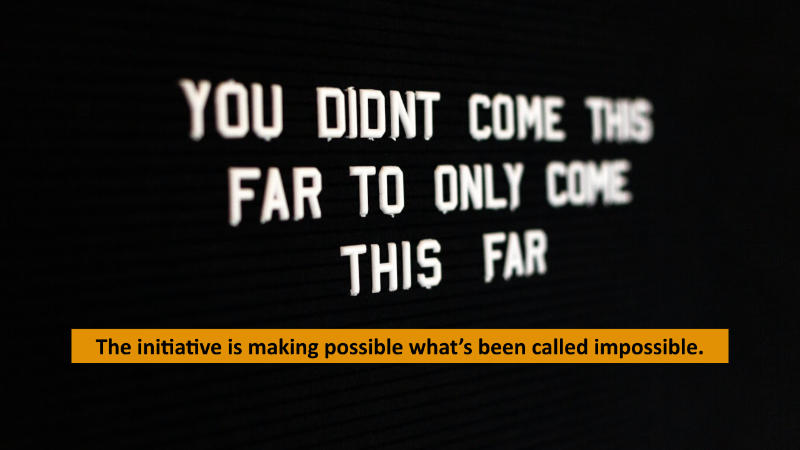 Your local 100% New Mexico initiative is, quite simply, making what has been described as "impossible" very possible. We are taking on our biggest challenges with optimism and grit. We are in this for the long haul because our kids are depending on us.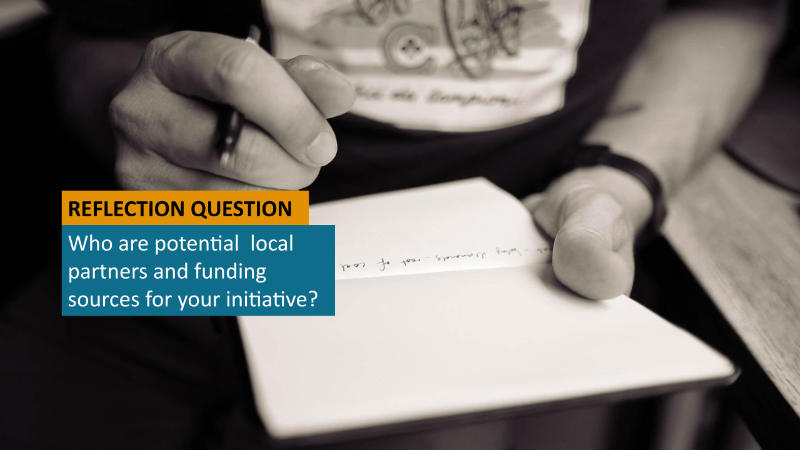 REFLECTION QUESTION: Who are potential local partners and funding sources for your local initiative?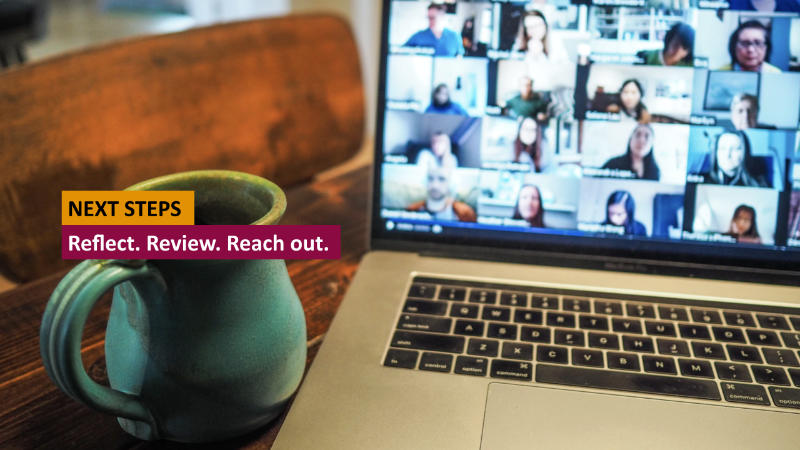 NEXT STEPS: Reflect on the presentation and your notes. Review the books and links to research provided. Reach out to colleagues, friends, family, neighbors and local elected leaders to discuss the 100% New Mexico initiative. We have designed this presentation so that it can be used with local elected officials within city and county government and school board members, agency leaders (representing the ten vital services), representatives from local higher education, faith-based and community-based organizations and your neighbors and friends.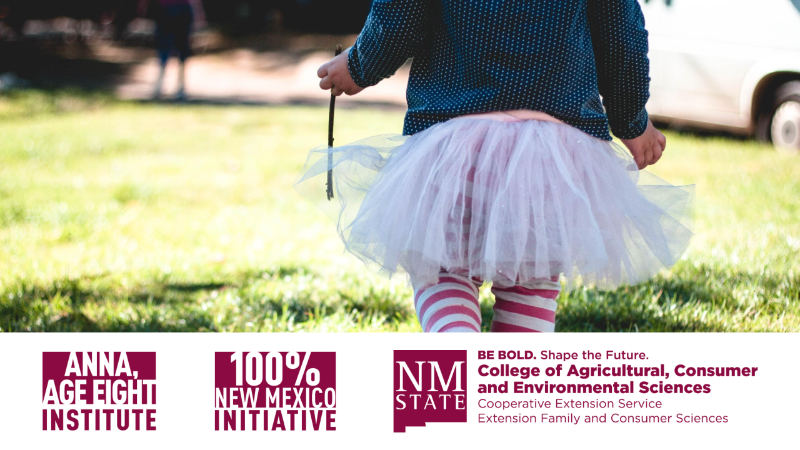 The next 100% Power Hour is Assessing the Need for Change. We hope to see you there. For any questions about the 7-part webiness series, the initiative, research guiding the process or practical steps in starting the initiative, please contact us annaageeight@nmsu.edu.
Additional Resources
Research
Explore Our Research Pages