ANNA, AGE EIGHT INSTITUTE
OUR INITIATIVE'S GOALS
WE'RE ENSURING EVERY FAMILY CAN THRIVE
The Anna, Age Eight Institute was funded by the New Mexico state legislature in 2019 to reach the goal of ensuring that our children, students and families are trauma-free and empowered to succeed in family life, school and the workplace. To achieve this we're using a data-driven and collaborative process focused on building the capacity of each county to strengthen local governmental and nongovernmental services and systems of health, safety, education, job-readiness and resilience. We are guided by decades of research focused on the social determinants of health and the social-ecological model that guides public health endeavors.
We bring to each county's leaders and stakeholders a process of problem-solving, brainstorming, learning, mobilizing, capacity-building and innovating, all with the support of state-of-the-art technology. Locally, the Institute's 100% New Mexico initiative helps guide collaborative efforts using the critical steps of assessing barriers to services, planning focused on identifying proven strategies to increase service access, action that builds infrastructure, and evaluation to measure increases in service access to the ten vital services shown to empower all families and communities.
THE PROBLEM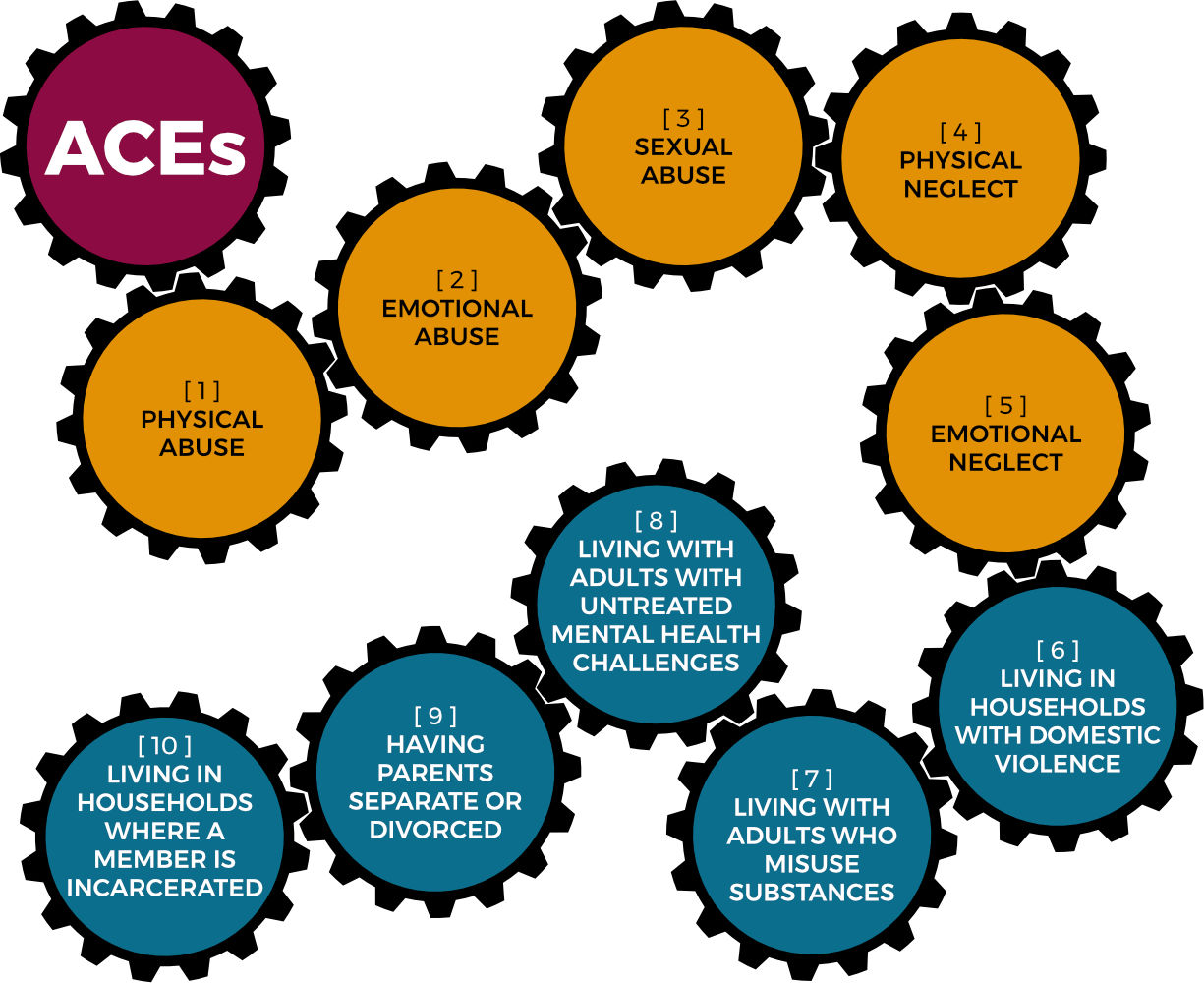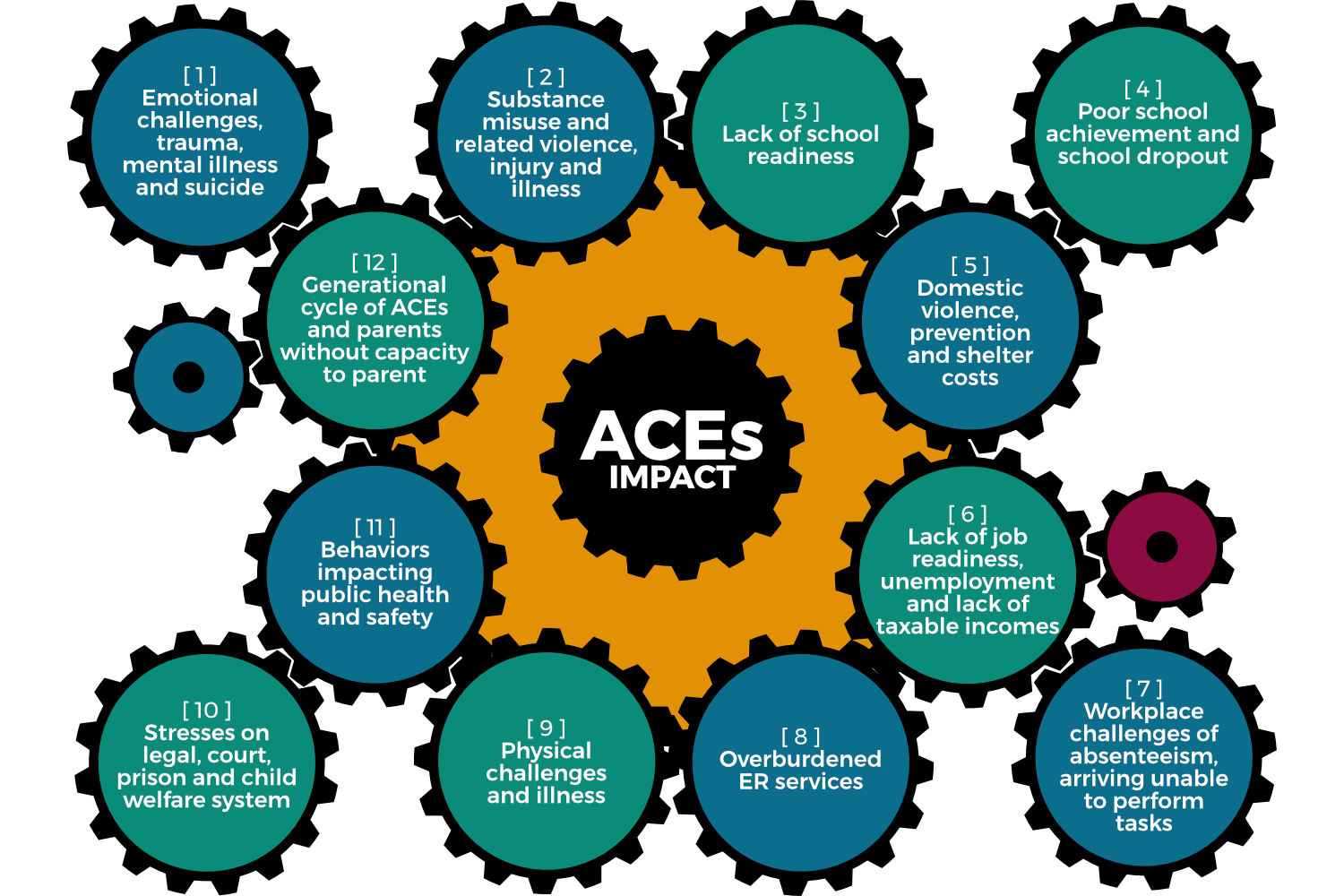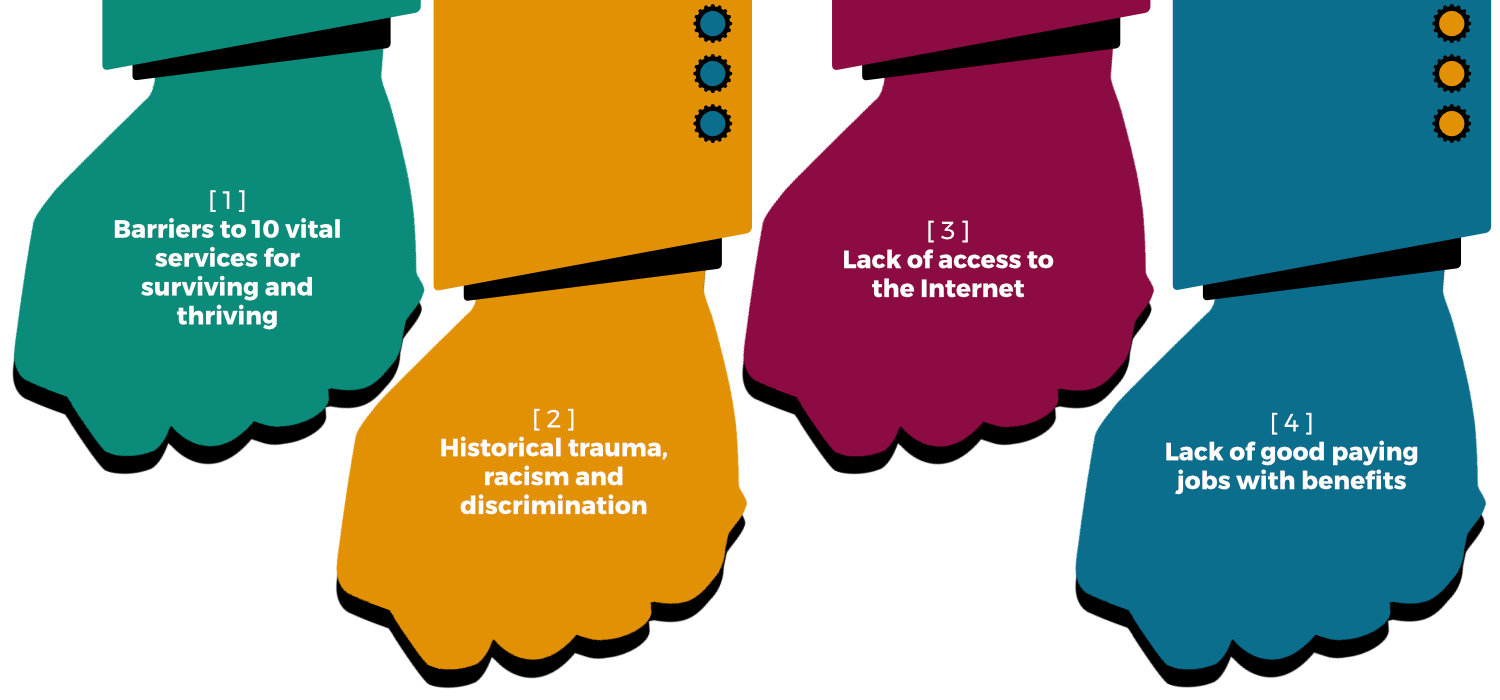 THE SOLUTION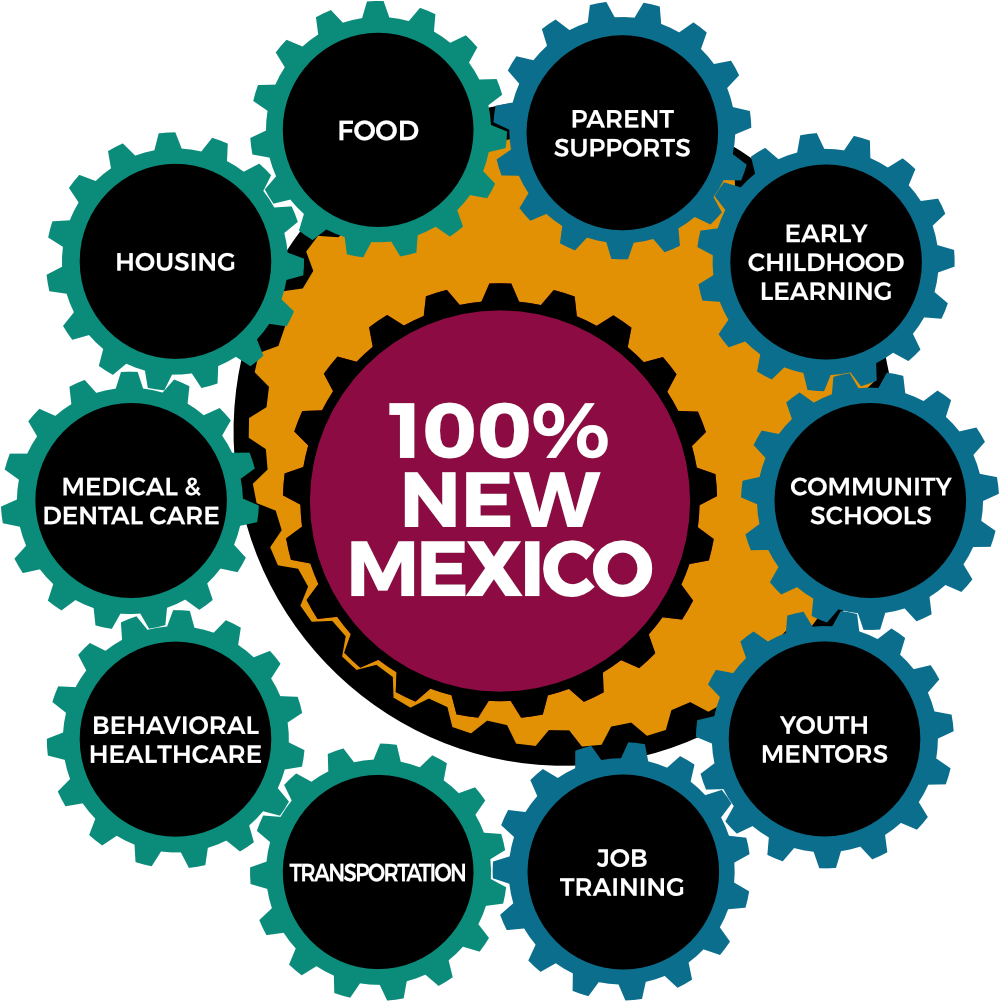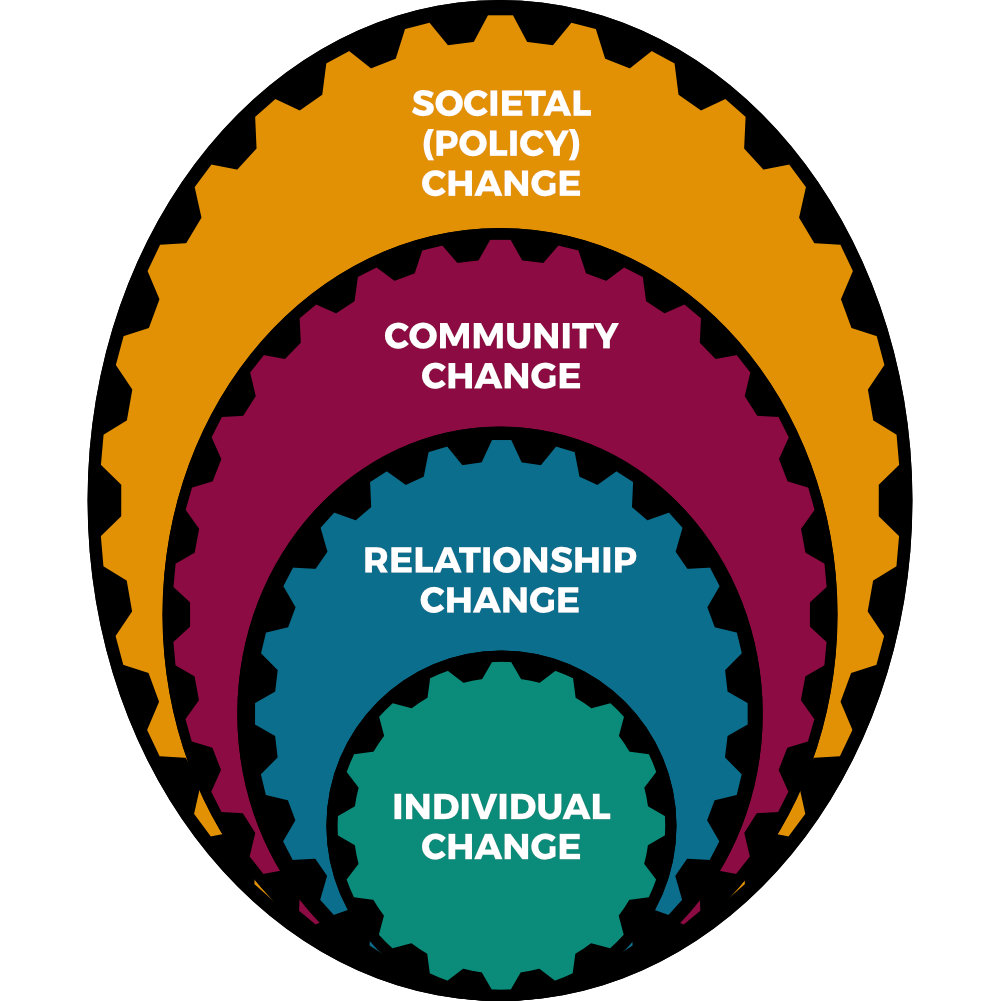 EXPLORING THIS SITE
STRENGTHENING LOCALITIES WITH TOOLS AND TECHNOLOGY
This website is a repository for research, programs and learning opportunities. Across the menu you'll find links to our 100% New Mexico Action Teams, 100% Power Hours, Project Overviews and Research.
Action Teams: These are the ten action teams each county forms as part of the 100% New Mexico initiative, focused on ensuring vital services within a county's borders. These teams turn service barriers into timely access to family-friendly services.
Power Hours: This is the seven-part 100% Power Hour webinar series provided quarterly to introduce county stakeholders, elected officials, and our higher education partners to the components of the 100% New Mexico initiative.
Project Overviews: These are the various projects the county-based 100% New Mexico initiative can implement to achieve the goal of health equity. They include the 100% Community Schools Project, which is creating fully-resourced community schools with health centers; the 100% Family Center Project, which is creating a one-stop service hub; the 100% Mural Project, which provides public education and engagement; the 100% Family Services Directory Project, which is providing a web-based resource directory to ten vital services; 100% Ready, which is our readiness workshop for local initiative participants; and 100% County Projects, which provides an overview of all our county initiatives across New Mexico.
Research: Here we provide links to three areas of interrelated research guiding the 100% New Mexico initiative: Adverse Childhood Experiences (ACEs) and Research, Adversity and Research, and 10 Sectors and Research. More than 300 journal articles document the costly challenges our residents endure, as well as the evidence-informed solutions that focus on ensuring the vital services shown to increase health, safety, learning, job readiness and self-sufficiency.
THE 100% NEW MEXICO INITIATIVE
EMPOWERING COUNTIES AND ALL THEIR COMMUNITIES
We all face challenges on the individual, relationship, community and society levels. Some of us are thrust into a public health crisis or economic downturn. For others, they're born into a world of adversity, trauma and chaos. The 100% New Mexico Initiative is about how we can strengthen systems of health and safety that serve everyone, everywhere. Working within the 100% New Mexico initiative, we provide all counties with the insights to ensure that ten vital services are working well and that each community within a county's borders is provided with the resources to increase the health and safety of all residents.
10 VITAL SERVICES
HOW LOCAL SERVICES ENSURE OUR GOOD HEALTH AND FUTURE
The social determinants of health can be viewed as the services and resources that can increase the overall well-being of people, strengthening their capacity to succeed. We can measure within each county to what degree these vital services exist. We call these services that none of us can do without the "surviving services" that start with medical care and include behavioral health care, housing security programs, food security programs and transport to vital services. In addition to the services for survival, we focus on strengthening the "thriving services" which include: parent supports, early childhood learning programs, community schools, youth mentor programs and job training. Each of these services play a vital role in keeping us safe from costly challenges like childhood maltreatment, family trauma, substance use disorders, untreated mental health problems, interpersonal violence, hunger, housing insecurity, and lack of job skills. These vital services also determine how we might build the capacity to perform well in school to achieve job readiness and self-sufficiency.
The 100% New Mexico Initiative is designed to bring all county leaders and stakeholders together from ten key family serving sectors shown to strengthen families.
THE 100% COUNTY MODEL
A CAPACITY-BUILDING PROCESS WITH SHORT, INTERMEDIATE AND LONG-TERM GOALS
The 100% New Mexico initiative supports local leaders and stakeholders in strengthening the local system of readiness, care and safety that makes us as crisis-proof as possible. In a world where any day can present new challenges, we can work to make all our communities as strong and prepared as possible — ready to weather any storm guided by courage, compassion, cooperation and timely facts.
We know that by investing in strong local systems of care, safety and education, community leaders can decrease the challenges of accessing vital community services. United with local leadership, we can also strengthen local capacity to address any problems related to crime, violence, adverse childhood experiences, trauma, substance misuse and injury.
At the heart of the local initiative are action teams representing ten service sectors — providing our "surviving" and "thriving" services. Action team members work to achieve the goal of ensuring 100% of county residents have access to the ten vital services for surviving and thriving. Our vision is expansive because the need is urgent and the opportunities are abundant.
Short-Term Goals: Build the organizational structure to implement the 100% New Mexico framework, educating county residents about the costs of adverse childhood experiences, family trauma and social adversity. Build ten action teams with a shared vision, goals, interconnected activities and a protocol for using data, technology and communication.
Intermediate Goals: Support ten action teams in identifying barriers to vital services, guiding initiative project leaders through the process of assessment, planning, acting and evaluation. Identify funding and resources to support our three main strategies: 1) building the 100% Family Center, a one stop service hub offering access to all ten vital services; 2) Transforming public schools into fully-resourced 100% Community Schools offering access to all ten services to students and parents; 3) ending the digital divide so that 100% of residents can access ten vital services online.
Long-Term Goals: With service barriers removed within each community within a county's borders, we can measure increases in family self-sufficiency, school achievement, job readiness, work performance and community engagement focused on growing a culture of caring where every child is the top priority.
ASSESSING BARRIERS: COUNTY SURVEY REPORTS
These reports identify where and why service barriers exist, hindering resident's capacity to find support services.Click to download a PDF copy of the county survey reports for Doña Ana, Rio Arriba, Socorro and Otero counties and a special report on targeted populations in Santa Fe County. Additional county reports are currently being completed and will be published as soon as they are available. These reports serve as the starting point for our county initiatives, with our action teams focused on addressing the service barriers identified in all ten sectors.
Click to download a PDF copy of the county survey reports.
7 STEPS TO 100%
The 100% New Mexico initiative is a seven-step process starting with a survey of community members, assessing what percentage of those who needed each service had difficulty accessing them, and why. Barriers identified can range from the service not being available in the community to inability to access transportation to the service. Each county has ten action teams, one representing each of the ten sectors who then take that data, analyze it, identify solutions to the barriers, implement those solutions, and evaluate progress. And then that process is repeated until the barriers are removed and 100% of residents have access to the services. It's a radically simple framework with an ambitious, audacious goal: ensure the local services that prevents childhood trauma, adverse community experiences, and social adversity.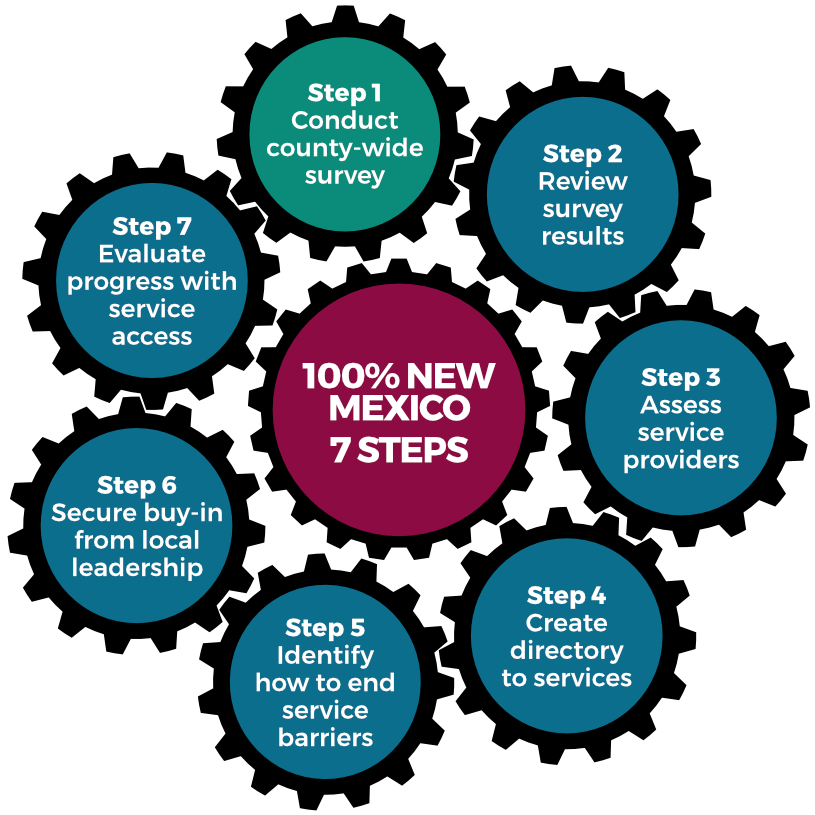 THE RETURN ON INVESTMENT
Everyone thrives! With an investment in the 100% New Mexico initiative, we can reduce service barriers to increase family functioning, school achievement, job readiness and workforce performance. We can also work on the local economic engine to revitalize downtowns and increase employment and small businesses. We can decrease costly involvement with child welfare, law enforcement, the courts and first responders and ER visits.
With service barriers removed, all residents can access the vital services to improve health and address historical trauma and all the costly public health challenges that are associated with ACEs and social adversity. Each county can reach results through collaboration, courage and creativity, with full support of the Anna, Age Eight Institute technical assistance team.
With alignment of all local leadership, both elected and informal, each county can become an engine for local problem-solving to ensure all residents are healthy, safe and resilient. The work of the initiative builds on current local efforts to improve systems of care, always committed to working in alignment with city government, county government and local nonprofit organizations.
OUR THEORY OF CHANGE
Our theory of change guiding the 100% New Mexico Initiative is informed by a wealth of research focused on a wide variety of topics including the public health social-ecological model and decades of research focused on the social determinants of health, health equity, health and education disparities and historical trauma.
THEORY OF CHANGE: If we ensure that all our families and community residents have access to the five surviving services and the five thriving services, we will increase self-sufficient, healthy and resilient family households.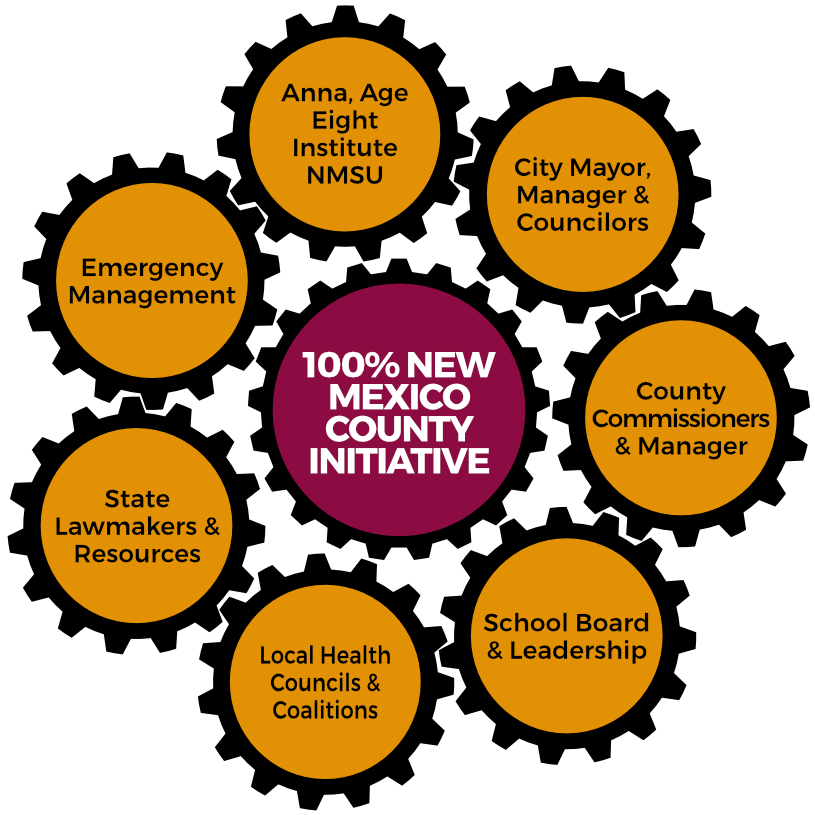 WHAT'S THE ROLE OF TECHNOLOGY?
In our rush to connect everyone on the planet over the last two decades, we forgot to make sure that 100% of residents had access to the internet and to encourage service providers to use technology to make their services as cost-effective and user-friendly as possible.
Revolutionary advances in the promotion of idea-sharing, the prevention and treatment of health challenges, and strengthening of countywide systems of safety, health, education and economic stability depend on technology. We have to step back to take a realistic look at how technology could or should help us create healthier communities where we're all in, leaving no one out. There are powerful tools out there waiting to be used effectively.
Visit our county websites:
WHY 100% NEW MEXICO IS GROUNDBREAKING
The 100% New Mexico initiative is demonstrating how New Mexico can bring together leaders in the public and private sectors to innovate and design systems of health, safety and education in New Mexico that serve everyone. The initiative has a very large umbrella, inviting the engagement of youth, college students, parents, grandparents, community activists and business people.
Amid a collision of crises, with a new one appearing almost weekly, each county has a choice to make. Either we surrender to manmade chaos or we, as local leaders and stakeholders, forge a new path. We can collaborate on the state, county, city and organizational levels to ensure 100% of us are safe and successful. We have the strategies, vision, goals and inspiring local leaders, as well as a tested collaborative process for measurable and meaningful progress. Join us in making every county in New Mexico a place where 100% of children, parents, students, caregiving grandparents, elders and businesses — everyone, everywhere — thrives.