100% New Mexico Initiative
100% POWER HOUR
TWO: PLANNING FOR CHANGE
PLEASE NOTE: This page contains supplemental information for attendees of the 4-part 100% New Mexico initiative power hours. Attendance is free, but registration is required. Please register here.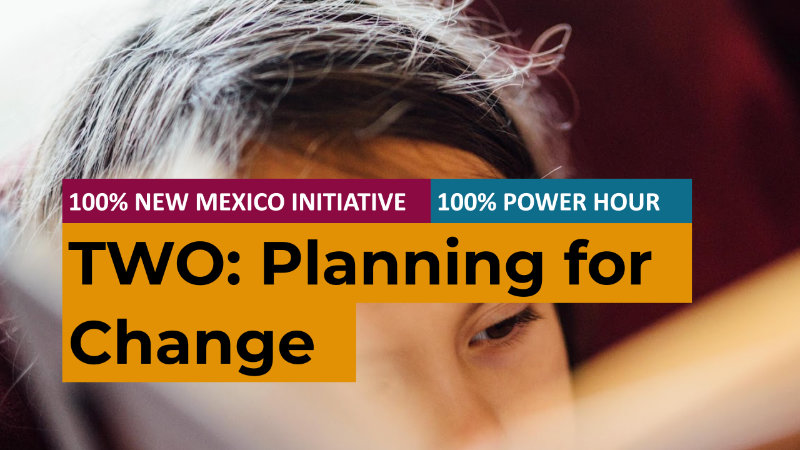 We are providing the slides and narrative text used in the 100% Power Hour: Planning for Change being offered quarterly by the Anna, Age Eight Institute. The 4-part webinar series is designed to give 100% New Mexico initiative members an overview of key concepts and issues related to implementing the initiative in their county. 
Power Hour participants are encouraged to use this page for local presentations in order to increase public awareness of adverse childhood experiences (ACEs), trauma, social adversity, and the data-driven prevention strategies to transform the adverse social determinants of health into the positive ones represented by all resident's access to ten vital services.
Before we begin our presentation, we want to allow for a moment of quiet reflection. Please take a minute to perform the self-care of your choice.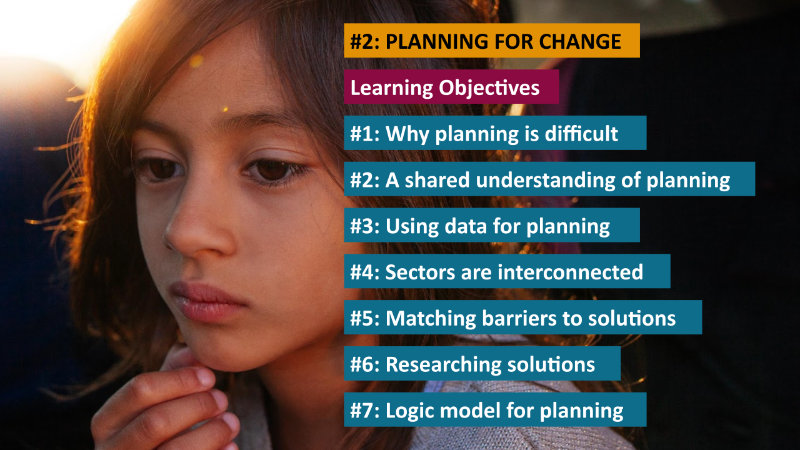 The learning objectives of 100% Power Hour #2: Planning for Change are participants completing the webinar will be able to describe an overview of: the challenges associated with planning, how to create a shared understanding of the planning process, using data to plan, how the ten service sectors are interrelated, matching service barriers to potential evidence-informed solutions, researching solutions to barriers and using a logic model to plan.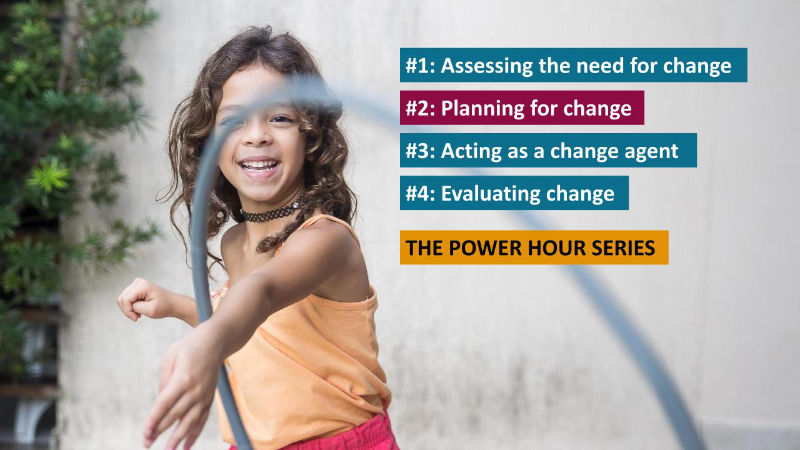 The 100% Power Hour 4-part webinar series was developed to provide initiative participants with an overview of key concepts that guide the initiative. This includes the detailed initiative programming to empower local county and city stakeholders as they address challenges through the process of continuous quality improvement: assess, plan, act, and evaluate. Today we focus on planning.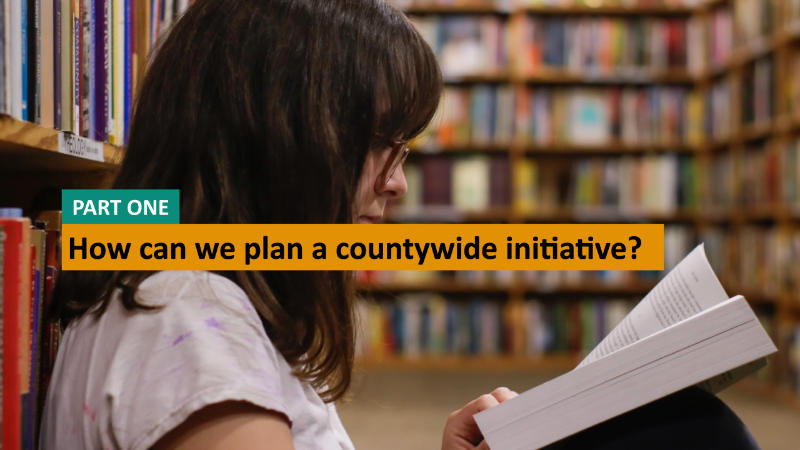 PART ONE: HOW CAN WE PLAN A COUNTYWIDE INITIATIVE?
The 100% New Mexico initiative, like many health initiatives across the country, has many moving parts. It also has a book to guide all initiative participants, a framework for change and one very clear vision: 100% of families and communities can thrive with access to the ten vital services for surviving and thriving.
We are united in ensuring that 100% of county residents have access to timely and quality services in ten interrelated service areas. This presentation will provide an overview of how we plan the initiative and all the projects required to make all the communities within a county's borders truly family-friendly.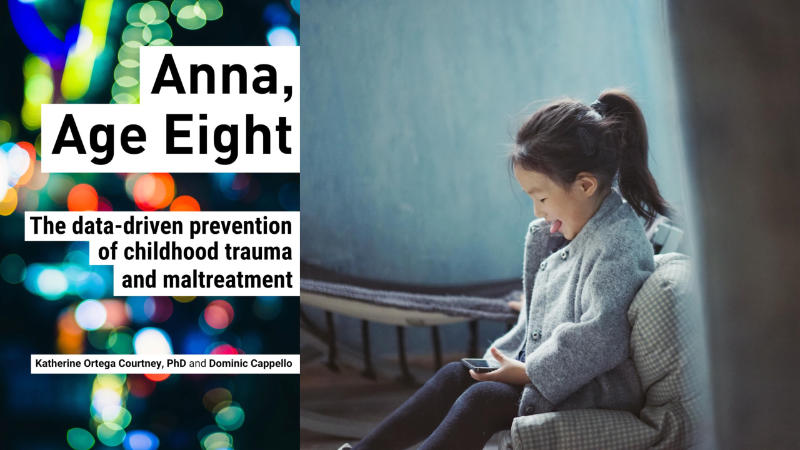 The 100% New Mexico initiative is the centerpiece of the Anna, Age Eight Institute's programming. County stakeholders start with an Anna, Age Eight book club.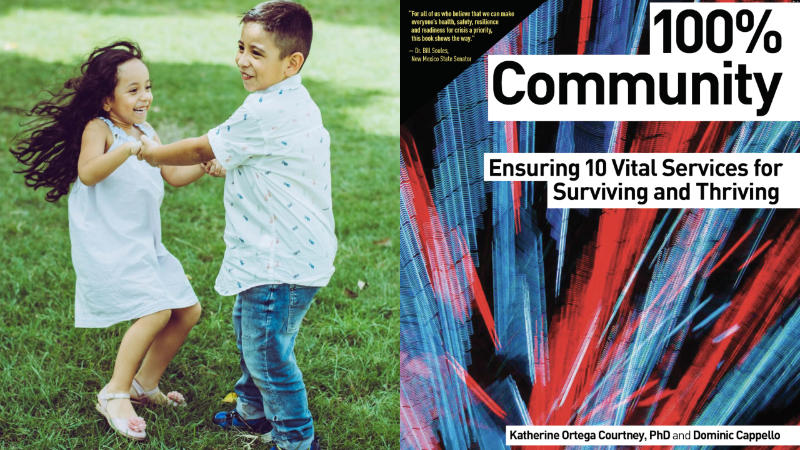 County stakeholders also create a book club with 100% Community: Ensuring 10 vital services for surviving and thriving. The book serves as the blueprint that 100% New Mexico initiative participants are using to assess barriers to vital services and build a countywide system of care that includes timely access to vital services. The book details how we collaborate to build the services in each county.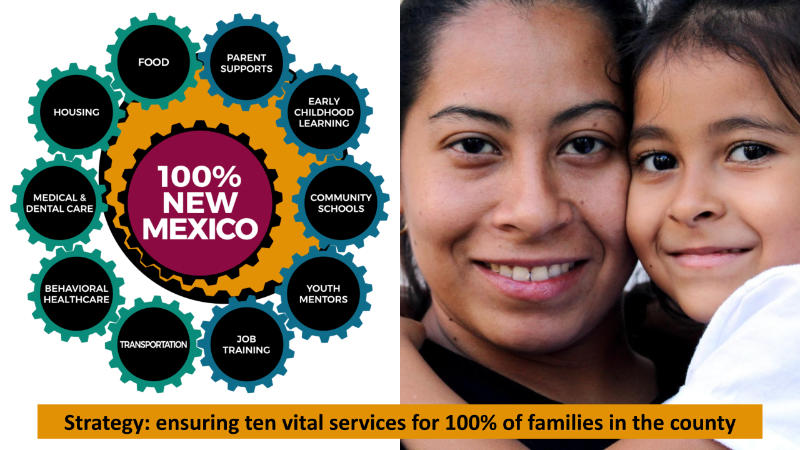 The goal of the data-driven, county-based and technology-fueled initiative is to empower local stakeholders in ensuring ten vital services for surviving and thriving, all key components of a county and city committed to health equity and racial justice. We are transforming the adverse social determinants of health into positive ones by ensuring ten vital services for 100% of families.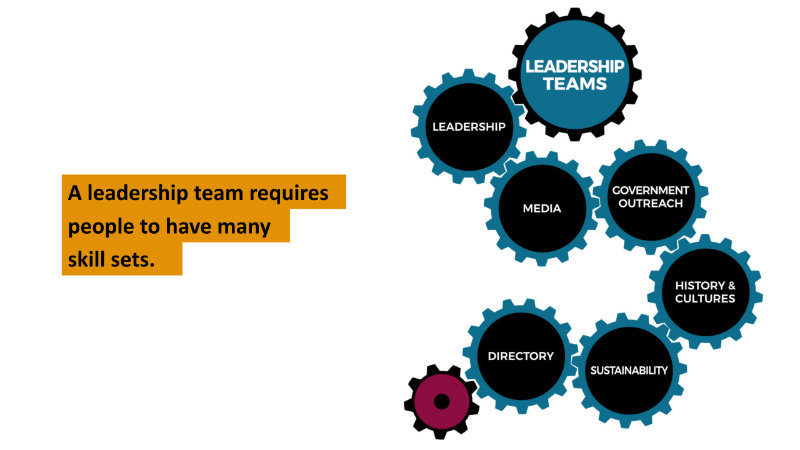 Planning requires a local structure. The 100% New Mexico initiative is guided on the county level by leadership teams, including members with expertise in public awareness and media, family services directory development, government outreach, sustainability, and fundraising. We also promote a task force on historical disparities and culture addressing issues of culture and racial equity. A local leadership team may also want a researcher or project developer to support local projects.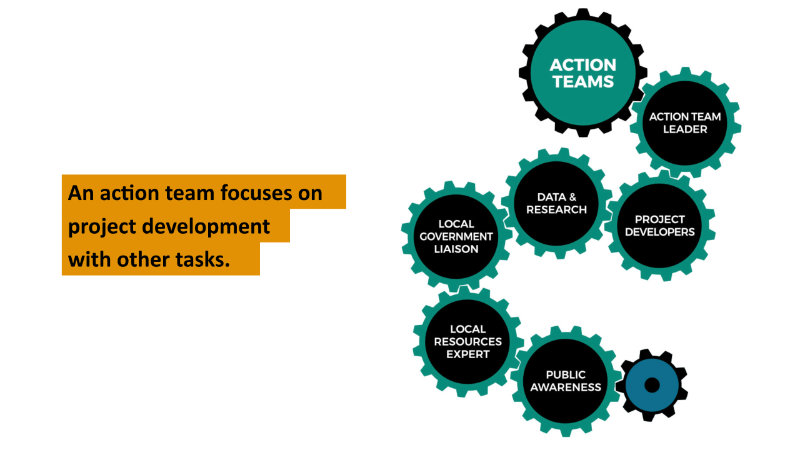 In addition to the leadership teams, there are ten action teams, each one focused on removing barriers to the ten vital services for surviving and thriving. Each team, headed by action team leaders, will have members with skill sets in data and research, project development, government relations, public awareness, and media. The action team is also responsible for assessing their service sector in order to update the local directories and the 100% Family Services Directory.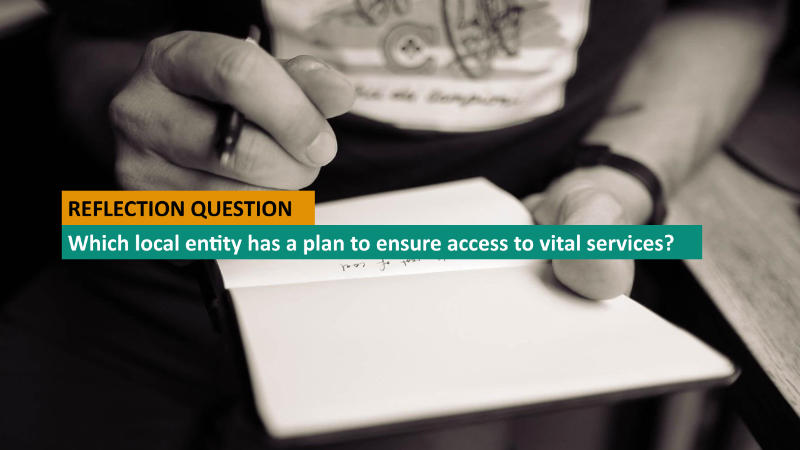 REFLECTION QUESTION: What local entity has a plan to ensure all families have access to the ten vital services for surviving and thriving?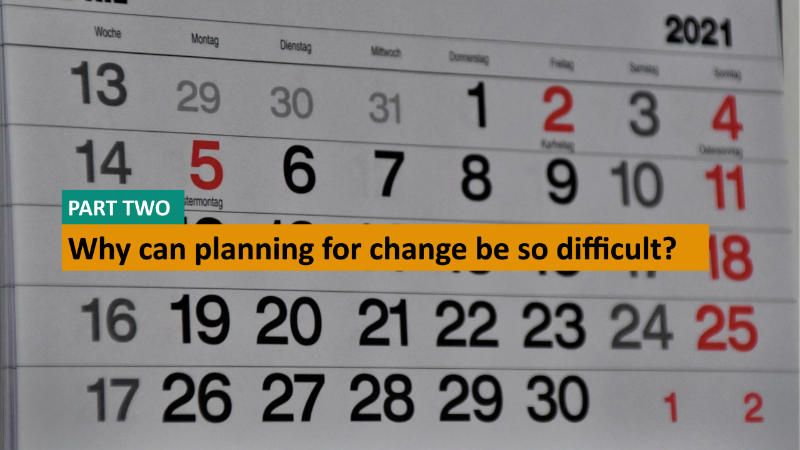 PART TWO: WHY CAN PLANNING FOR CHANGE BE SO DIFFICULT?
There are important questions to ask within the context of the 100% New Mexico initiative. One simple one is, "How does the local 100% New Mexico initiative partner with city and county government staff and elected leaders to create a strategic plan to ensure that all families have access to vital services?" Another equally important question is, "How does the local initiative promote a shared vision of a county where 100% of families have access to the services to thrive?" The planning process begins after the countywide survey is completed. It is the phase where the county-based initiative's ten action teams use data to identify the solutions to service barriers.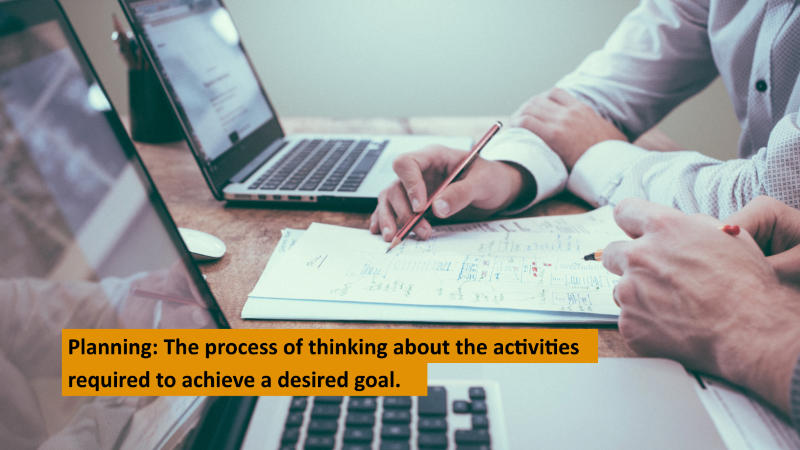 Part Two begins with a definition of planning: The process of thinking about activities required to achieve a desired goal.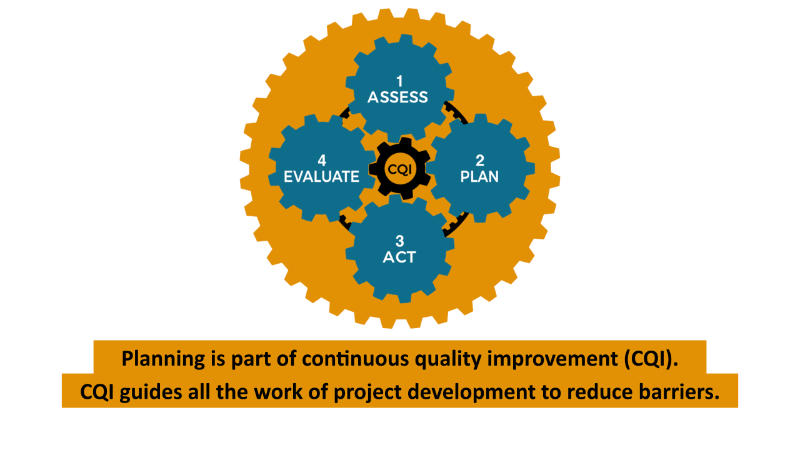 The entire initiative follows the continuous quality improvement (CQI) process, moving from assessment to planning to action to evaluation. This process is also used by each action team as they develop projects focused on ending barriers to vital services.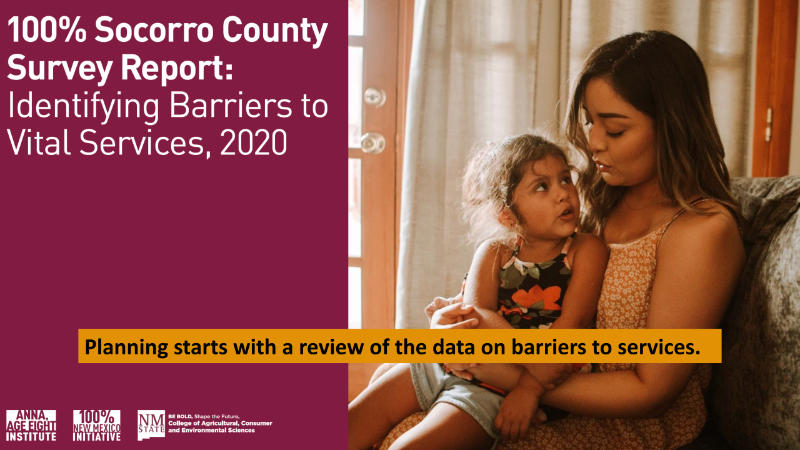 With a completed 100% New Mexico County Survey, the county-based 100% New Mexico initiative members will be able to analyze data and review the barriers to services. This analysis is done in the ten action teams, each one focused on one service area.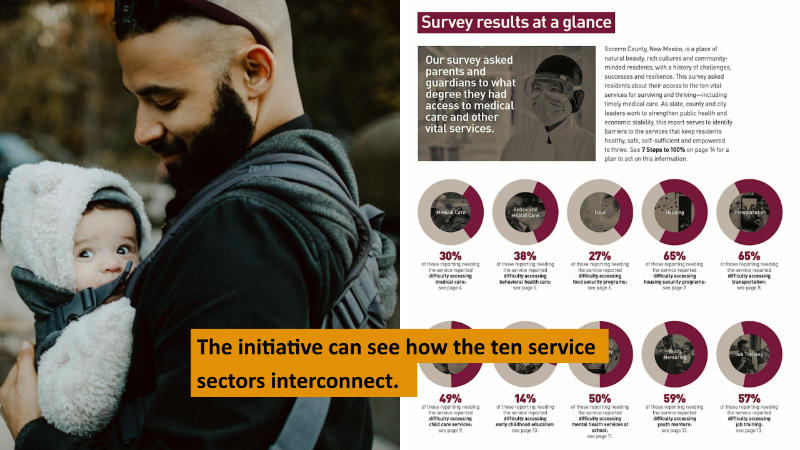 Ten action teams can see how the ten service areas are interconnected. For example, one barrier to medical care may be public transportation.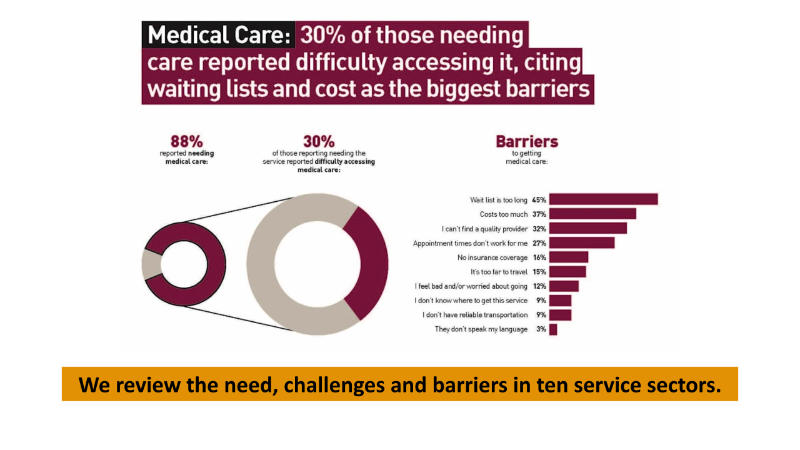 Action teams have a shared understanding of the need for services, the challenges and each barrier. Each barrier represents an opportunity to plan a solution.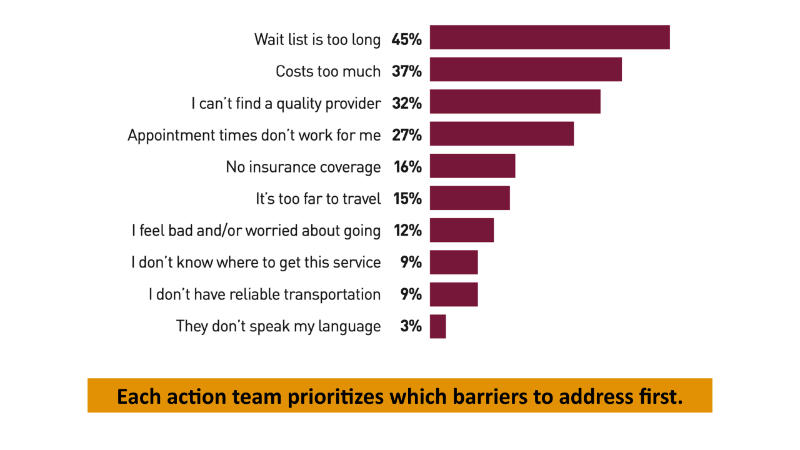 Action teams review each barrier and then identify the priorities. This means focusing on ending a particular barrier like cost, or not qualifying, or being unsure of what is available.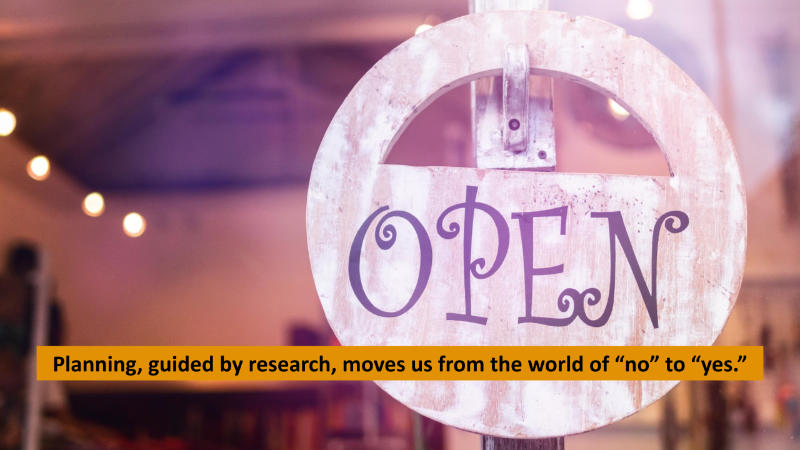 Planning, guided by research (and determination), moves action teams in each county from the world of "no," to the world of "yes."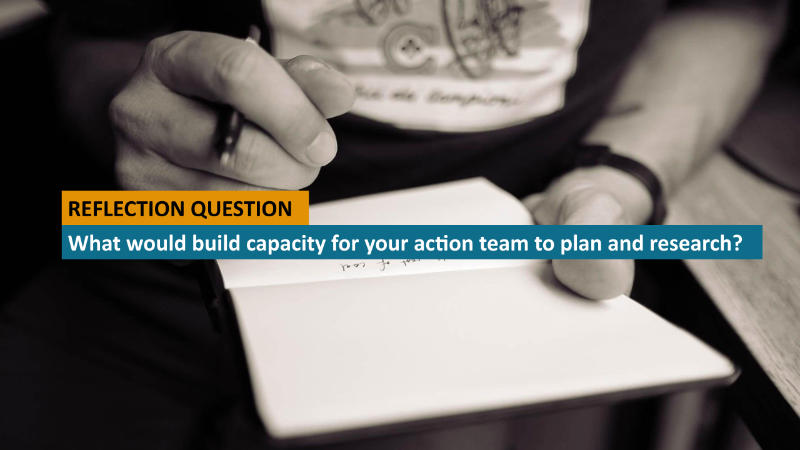 REFLECTION QUESTION: What would build the capacity of your action team to plan, research, and identify potential solutions to service barriers?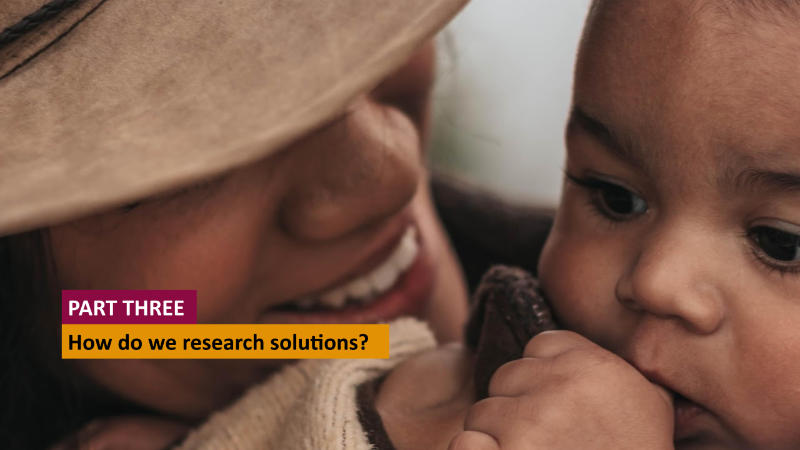 PART THREE: WHAT'S YOUR VISION OF PARENT-FRIENDLY SERVICES?
The Anna, Age Eight Institute provides to all initiative participants a list of 20-25 potential evidence-informed solutions. This is a starting point in your research. There are literally hundreds of solutions awaiting us. Some solutions require only collaboration between agencies. Others will require local investments and countywide collaboration.
In order to ensure vital services, it's important for a person to start with a vision. Ask yourself, "What would my county look like if all ten services were accessible to 100% of families?"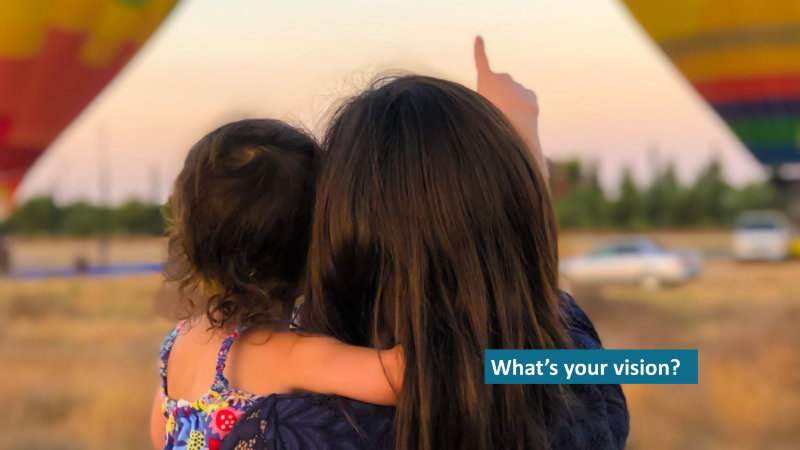 What's your vision? Imagine in your action team, focused on one of ten sectors, that you discuss the survey and gaps identified. From here, you can conduct a group exercise where each team member describes their vision of what the future would look like if all the barriers were gone, and replaced by local family-friendly service organizations. This is a visualization process, one that inspires action.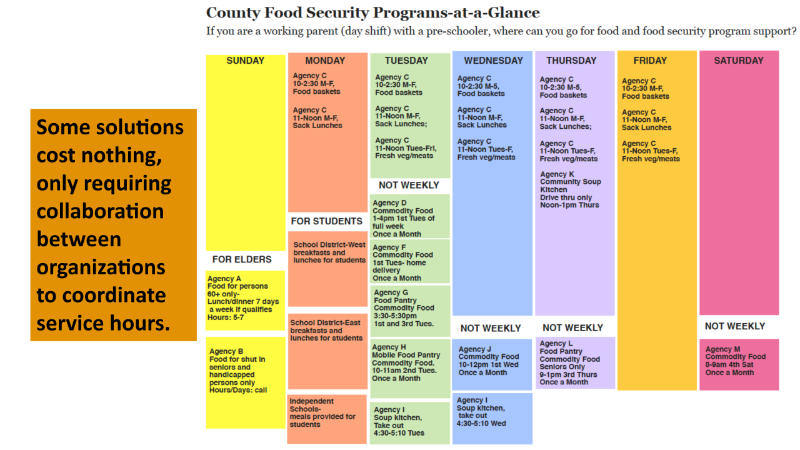 Collaboration can end barriers. Please review the weekly schedule of food pantries and food security support in one county. Based on the service hours, when could a working mom with two preschoolers access services? This activity is one done in both the assessment phase and the planning phase within all ten action teams.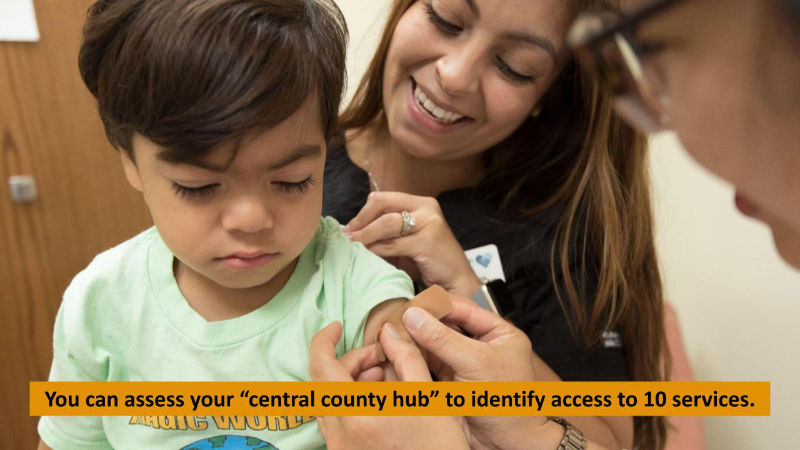 Strategy One: The 100% Family Center: One-Stop Service Hub. With this strategy, ten action teams work together to bring all services to one location in the most populous city in the county. For a working mom with two preschoolers, this means one visit meets many needs. The transportation action team can review all public transportation options within the county, assessing how residents in communities scattered across the county can access transportation to a main service hub.
In the assessment process, service providers can be interviewed about their interest in being part of a service hub.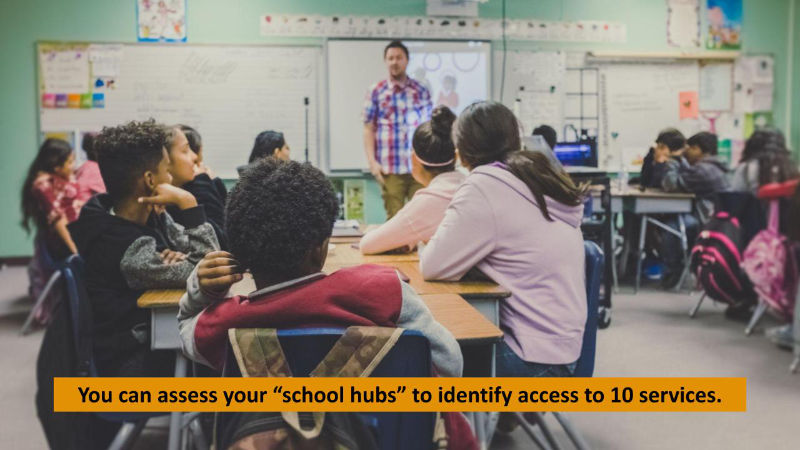 Securing local investment can end barriers. Some projects, like turning a school into a fully resourced community school with a health care center, will require investments. Funding might come from a variety of sources including city government, county government, the school district, and the healthcare service industry. We are here to support all your projects, big and small.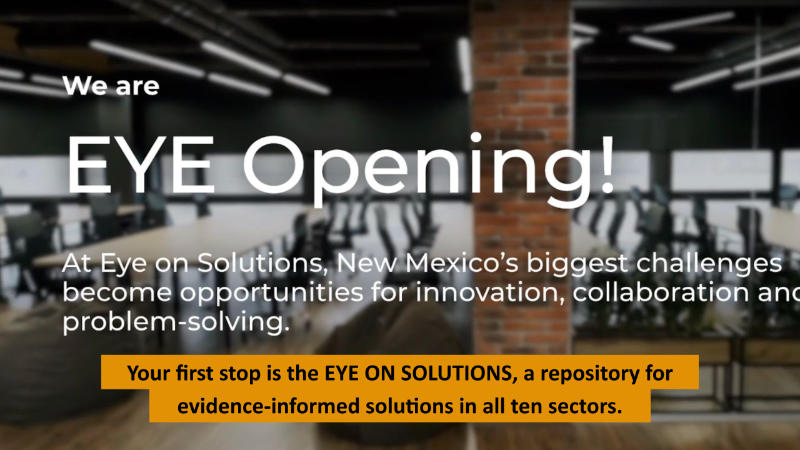 In your planning phase, you will be visiting the EYE ON SOLUTIONS, a repository for evidence-informed solutions in all ten sectors. In addition to our two keystone projects, the 100% Family Center: One Stop Service Hub and Community Schools with Service Hubs, there are many innovative projects to explore.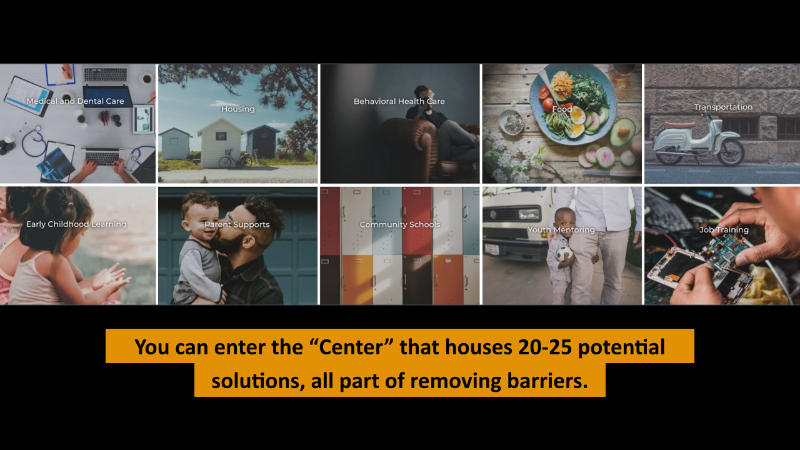 Once inside the EYE ON SOLUTIONS lobby, you can choose which of the ten centers you wish to enter. Inside each center are many evidence-informed solutions to all sorts of service barriers. We don't lack solutions, just the collective vision and political will. https://www.eyeonsolutions.org/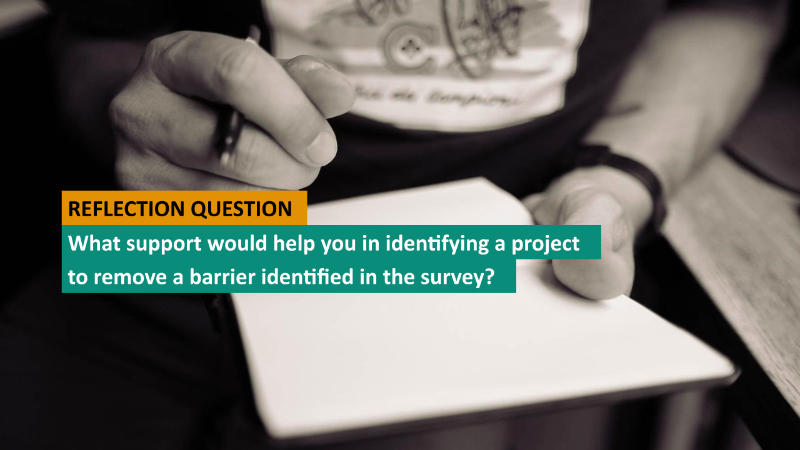 REFLECTION QUESTION: What support would help you in identifying a project to remove a barrier identified in the survey?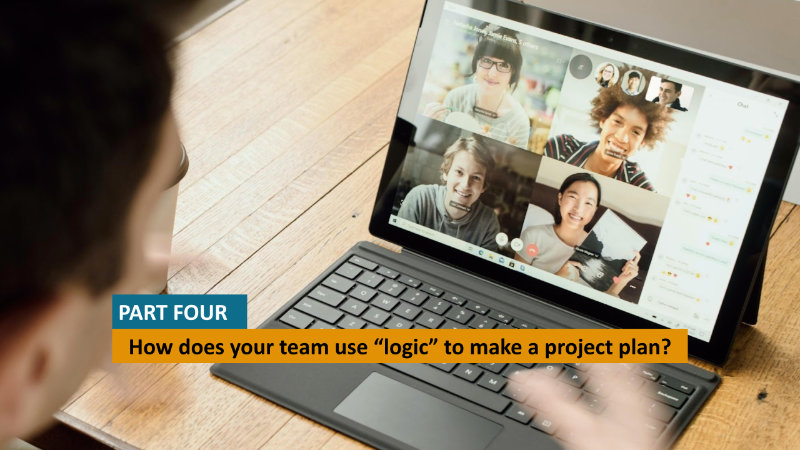 PART FOUR: HOW DOES YOUR ACTION TEAM USE LOGIC TO MAKE A PROJECT PLAN?
All ten action teams will be planning projects. To do this effectively requires considering many factors.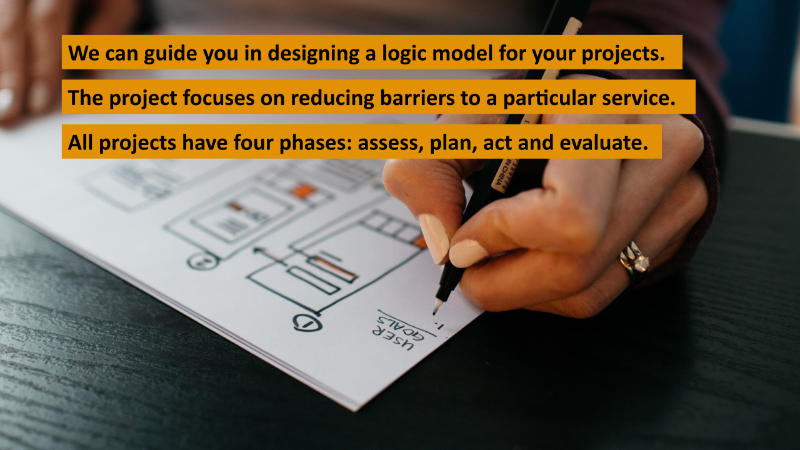 We recommend using a planning tool called a logic model. This is widely used in public health to develop projects and is a one-page visualization of all the steps required to develop a project plan.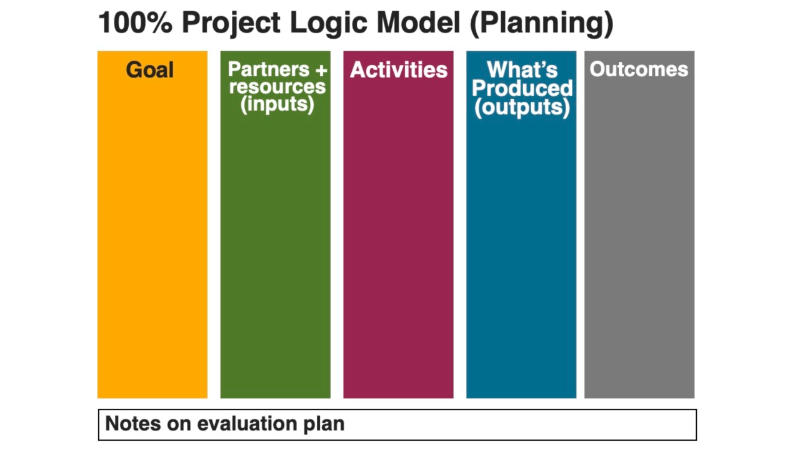 The components of a logic model are:
The project goal
The partners and resources required (inputs)
Activities
What is produced by the activities (outputs)
Outcomes (short, intermediate and long term)
The Anna, Age Eight Institute can help all county initiatives develop logic models for all their action team projects.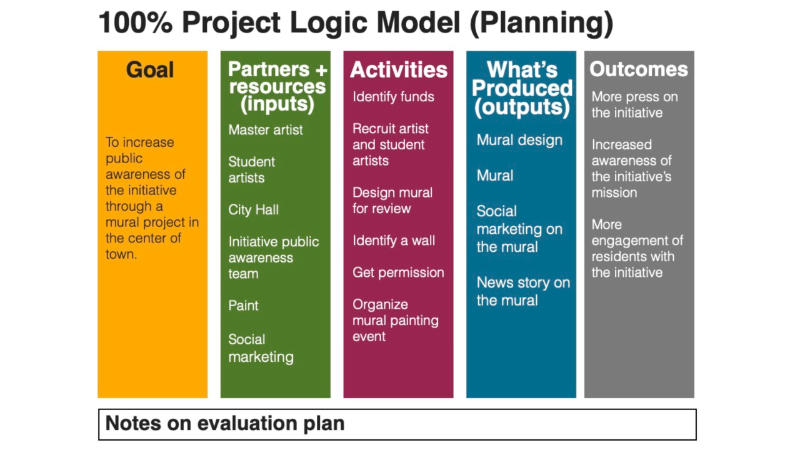 Imagine you wanted to do a public mural to support community education and recruit new stakeholders into action teams. The logic model outlines the plan of action.
Goal: To increase public awareness of the initiative through a mural project in the center of town.
Partners and resources (inputs): Master artist, student artists, city hall, initiative public awareness team, paint, social marketing
Activities: Identify funds, Recruit artist and student artists, design mural for review, identify a wall, get permission, organize mural painting event
What's produced (outputs): Mural design, mural, social marketing on the mural, news story on the mural
Outcomes: more press on the initiative, increased awareness of the initiative's mission, more engagement of residents with the initiative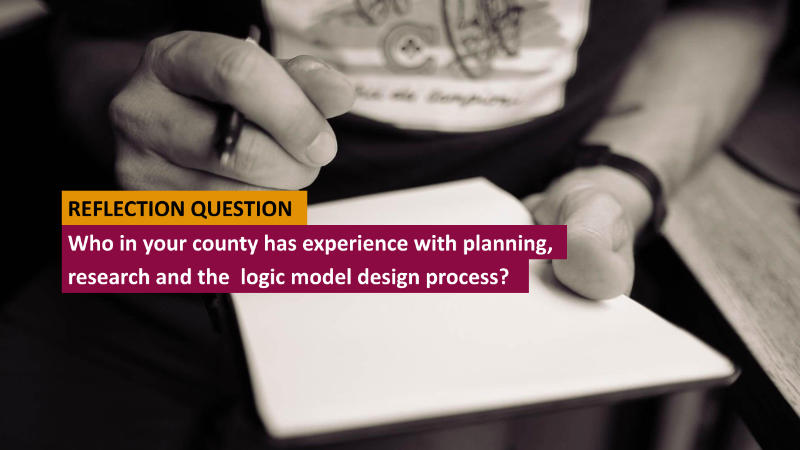 REFLECTION QUESTION: Who in your county has experience with planning, research, and the logic model design process?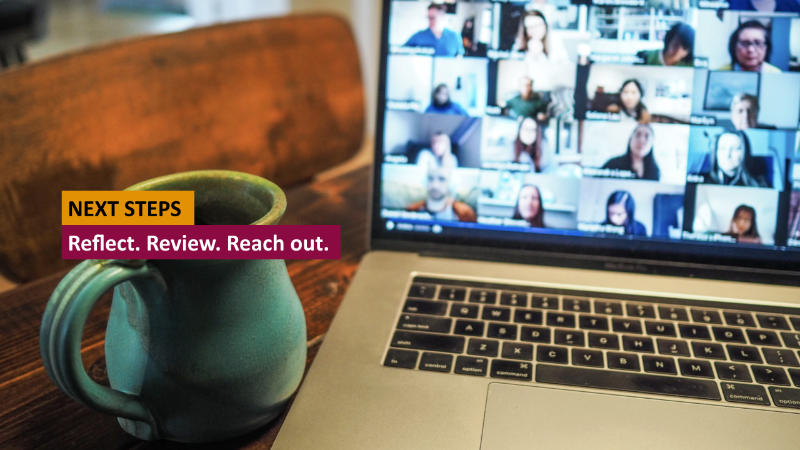 NEXT STEPS: Reflect on the presentation and your notes. Review the books and links to the research provided. Reach out to colleagues, friends, family, neighbors, and local elected leaders to discuss the 100% New Mexico initiative. We have designed this presentation so that it can be used with local elected officials within city and county government and school board members, agency leaders (representing the ten vital services), representatives from local higher education, faith-based and community-based organizations, and your neighbors and friends.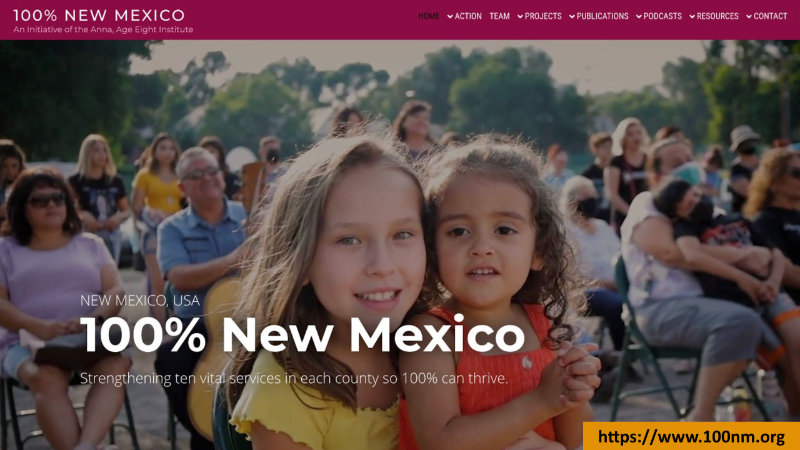 Visit the 100% New Mexico website to access local 100% New Mexico sites across the state, research, data, podcasts, our blog, and frameworks.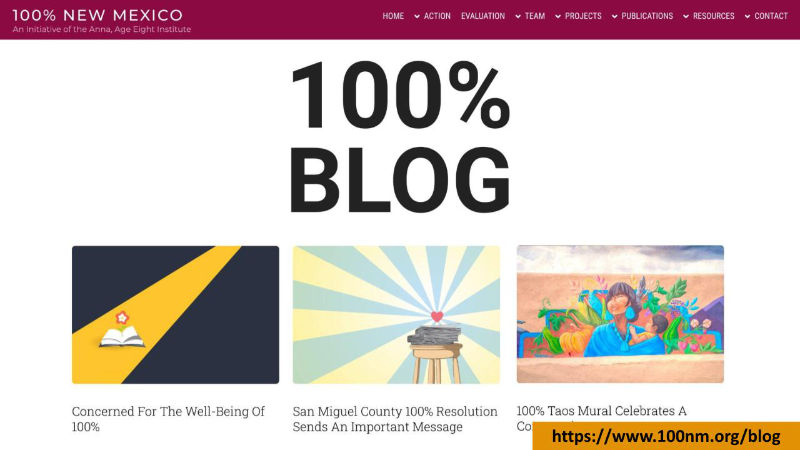 Subscribe to our 100% Blog with articles on challenges, opportunities and local successes with county initiatives.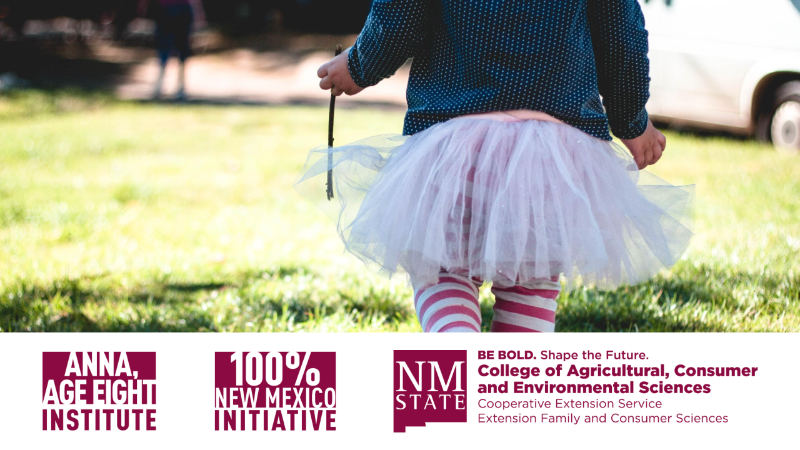 The next 100% Power Hour is Planning for Change. We hope to see you there. For any questions about the 4-part webinar series, the initiative, research guiding the process or practical steps in starting the initiative, please contact us annaageeight@nmsu.edu.
Additional Resources
Download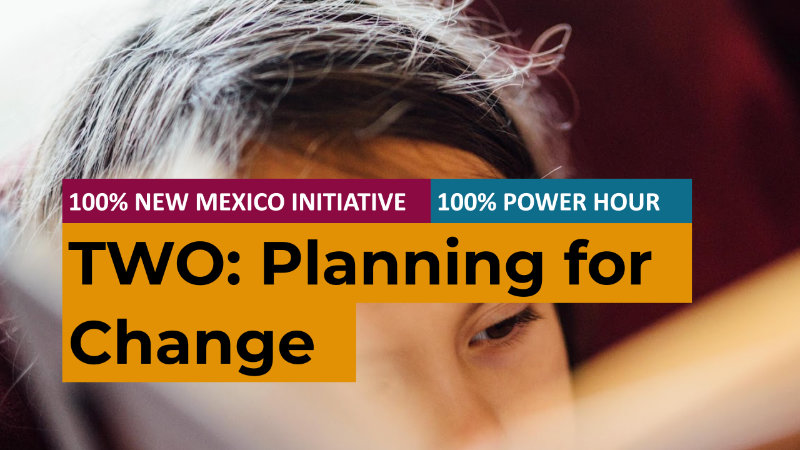 Access the Powerpoint for presentations
(via Google Slides)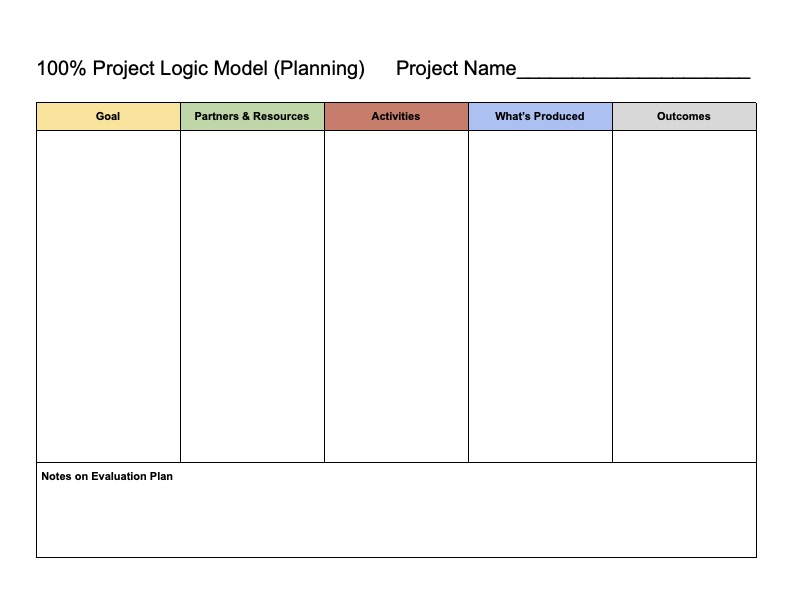 Download a fillable copy of the 100% Logic Model Template (choose FILE >> MAKE A COPY or DOWNLOAD to save a private copy)
(via Google Drive)
Research
Explore Our Research Pages